FDA FastStats: A Look Back at 2013 Medical Device Warning Letters with Quality System Deficiencies: In our latest infographic analysis, today's post highlights medical device warning letters with quality system deficiencies. Surprisingly, warning letters were actually down 12.2% from 2012. However, they are almost double the number (77) issued in 2009. Are we looking at a downward trend? The jury's still out. The highest number of warning letters issued in the past 10 years was in 2012, with a total of 164. The lowest was 2007, with only 74 warning letters issued.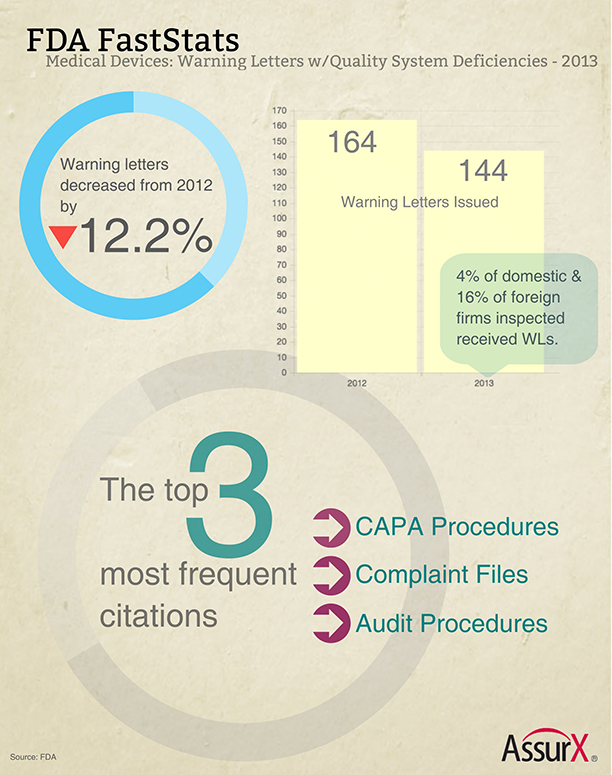 About AssurX Inc.
With decades of expertise built into our quality management and regulatory compliance software, the AssurX Quality Management Software Platform helps companies maintain quality and compliance standards, streamline workflow, and better manage any enterprise. Our configurable software and understanding of users' needs produce a unique system that easily adapts as a customer's business evolves. AssurX is an ideal partner for regulated companies looking for better operational control and efficiency while staying compliant. To learn more, visit www.assurx.com.
Other FDA FastStats Articles:
Explore More Resources Now:
White Papers & Special Topics
Examine other technical and industry topics.
Videos
Learn all about AssurX and our products and hear directly from your peers.
Case Studies & Success Stories
Read detailed accounts of how customers in a variety of industries are using AssurX software.
Webcasts & Webinars
Access video replays of our most popular webcasts and webinars on a variety of industry-specific topics.
Brochures & Datasheets
Read about the AssurX platform as well as industry and software solutions.
Blog
Get the latest news and insights from AssurX and other industry leaders.