Manage the Compliance Demands of the Complex EU Framework
Facilitate Continual Improvement of Device Safety and Performance
The AssurX EU MDR Solution Automates the Process of MIR Submissions
European Union Medical Device Regulation (EU MDR) requires medical device manufacturers to meet significantly higher quality and safety standards than in the previous Medical Device Directive (MDD). Post-market vigilance requirements present process challenges that require modern technology solutions.
AssurX electronic reporting solution automates the EU Manufacturer Incident Reporting (MIR), enabling timely post-market reporting of applicable medical device vigilance incidents. Post-market requirements outlined in the EU MDR carry significant process challenges and procedure updates.
The AssurX EU MDR solution aligns business logic with the most up-to-date MIR template published by the European Commission (EC) and automates the documentation and submission under vigilance guidelines and reporting time frames.
AssurX EU MDR Solution Benefits
COMPLIANCE
Submit reports within required time frames. Reminders and escalations keep users aware of deadlines, incident severity, and process the next steps: built-in audit trail and electronic signature functionality.
CENTRALIZE
Collect detailed, quantifiable data for trending in a centralized repository. Integrate with other QMS processes for downstream issue management, including investigations, CAPA, and change control.
CONTROL
Robust monitoring and reporting engine provide deep insight into device issues for investigations and continual product improvement.
STREAMLINE
Minimize risk and through centralized control of the EU medical device event reporting process.
FLEXIBILITY
AssurX allows organizations to adapt processes in alignment with changing regulatory landscapes. Quickly incorporate EU MDR reporting changes as regulation is updated.
VISIBILITY
Get real-time trending and global oversight with features that provide full visibility into the current state of incident reports.
AssurX Manufacturer Incident Reporting (MIR) submission data can be connected to any AssurX QMS process that requires the compilation and evaluation of product performance data.
AssurX Automated MIR Submission Solution Features
The AssurX EU MDR enables electronic reporting of medical device vigilance events required by manufacturers, user facilities and importers in compliance with European Union Medical Device Regulation (EU MDR) and requirements of the Manufacturing Incident Report form (MIR). The EU MDR solution can run standalone or integrated with our modern post-market surveillance quality management system for unmatched visibility into the device history.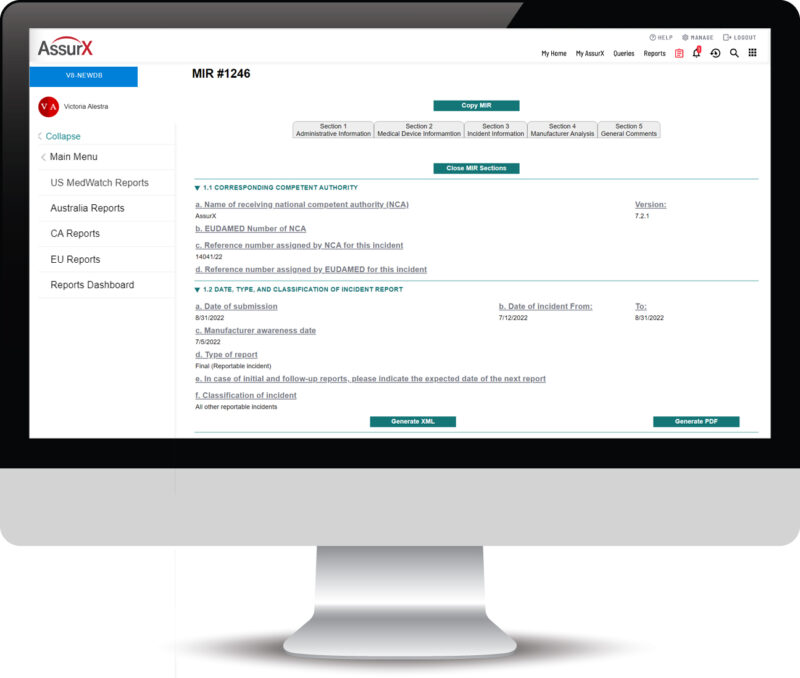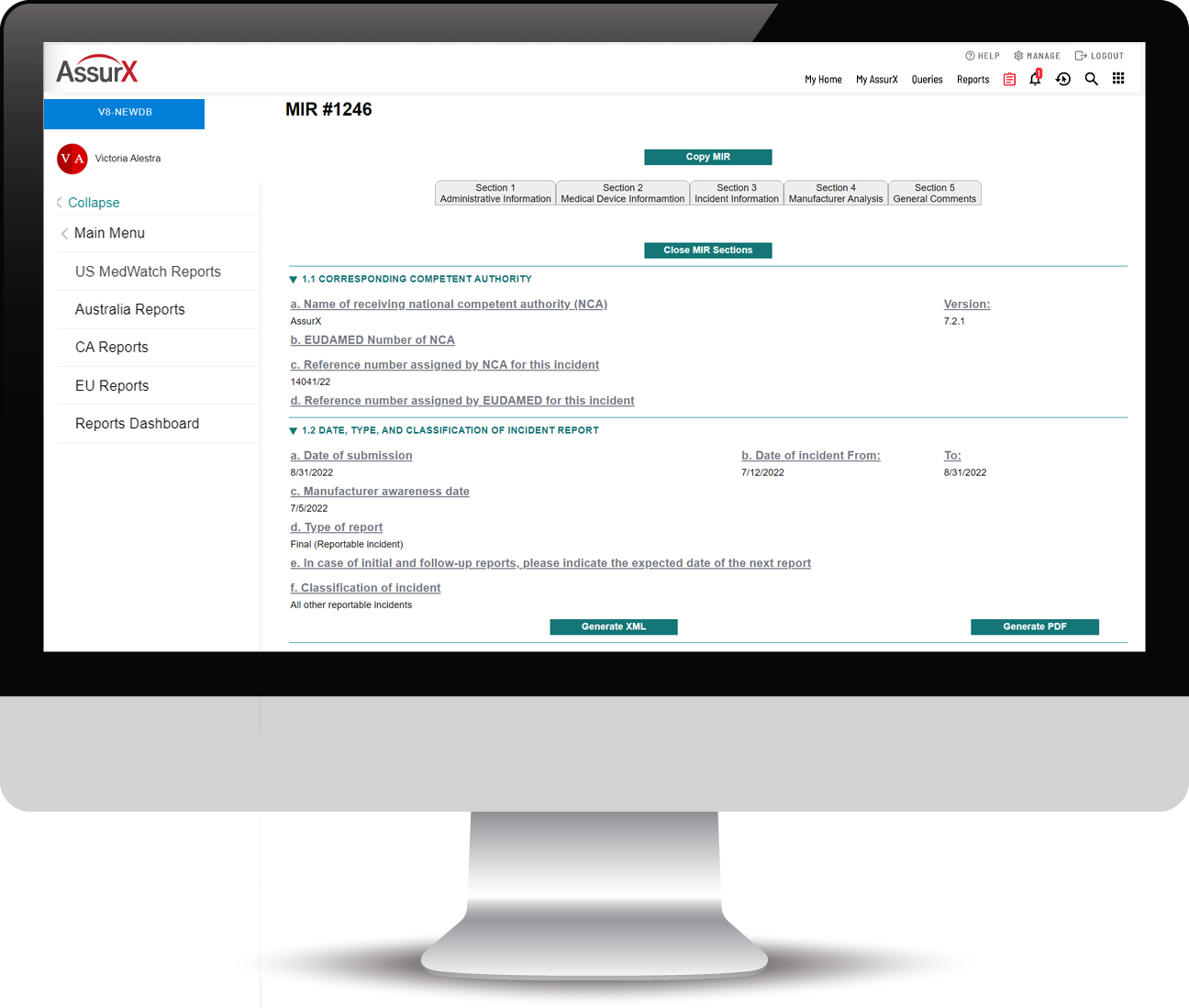 Rapid Implementation and Ease of Use

The AssurX EU MDR solution is pre-configured to conform to the quality and compliance standards of the EU. Intuitive features eliminate the need for manual lookup and reminders/ escalations to keep all investigations on pace for tighter reporting deadlines.

Integration and UDI Data Readiness

Under the new EU MDR, post-market events require effortless synergy to other areas within the organization. AssurX software can run standalone or integrated with the AssurX post-market surveillance quality management system for unmatched visibility into the device history. Extend your quality system by integrating with crucial source systems to centralize data in a secure repository for downstream activities such as post-market investigations and reporting.
Efficient, centralized submissions

AssurX helps ensure information accuracy and timeliness of submissions with a range of features for each incident's full transparency. Each incident becomes part of the device record, capturing detailed information, including determining reportability and justification of non-reportable events.

Reporting

AssurX provides real-time tracking of reportability with a complete audit trail. Generate PDF or XML output for submission according to the latest published guidelines for Manufacturer Incident Report (MIR) for Serious Incidents (MDR/IVDR) and Incidents (AIMDD/MDD/IVDD).

Professional Implementation and Support Services

AssurX Professional Services offers a proven implementation methodology to accelerate your solution deployment and integration needs. AssurX Validation Management Services can help maximize the validation efficiencies associated with future enhancements and configuration changes by re-validating your system with minimal disruption, reducing costs, and maximizing your team's productivity.