A Closed-Loop Approach to MDR
ELECTRONIC MEDICAL DEVICE REPORTING (eMDR) FOR SEAMLESS END-TO-END SUBMISSIONS DIRECTLY TO THE FDA
AssurX eMDR Automates FDA Medical Device Safety Reporting
AssurX eMDR provides a direct, closed-loop automated adverse event reporting without the requirement of any additional third-party tools or EDI systems. It enables full compliance with FDA CFR 21 Part 803 reporting guidelines for medical device manufacturers and device user facilities to report adverse events concerning device-related death or serious injury, or malfunction.
AssurX eMDR automates the generation and submission of electronic medical device reporting (eMDR) for MedWatch 3500A reports direct to the FDA Gateway. By using an intuitive, tabular workflow approach, AssurX provides all levels of 3500A reporting, seamless direct submission to the FDA's ESG (Electronic Submissions Gateway) via WebTrader (WT) or AS2, as well as PDF generation.
AssurX manages submissions and acknowledgements through the FDA's Electronic Submissions Gateway. All acknowledgements are attached to the MedWatch record as they are received. A dashboard provides at-a-glance acknowledgement status from the AssurX eMDR home page.
Integrate eMDR into a Unified Quality Ecosystem
AssurX eMDR integrates with any other AssurX solution or external system to manage quality and change throughout the device lifecycle. Launch related investigations for complaint management, deviations, and corrective and preventive actions.
Initiate change requests, update documentation, and modify training requirements through connected processes in the AssurX platform.
Connect eMDR reports to product records in external systems to improve compliance posture and visibility throughout the enterprise and creates a quality ecosystem focused on visibility, product safety/improvements, and customer satisfaction.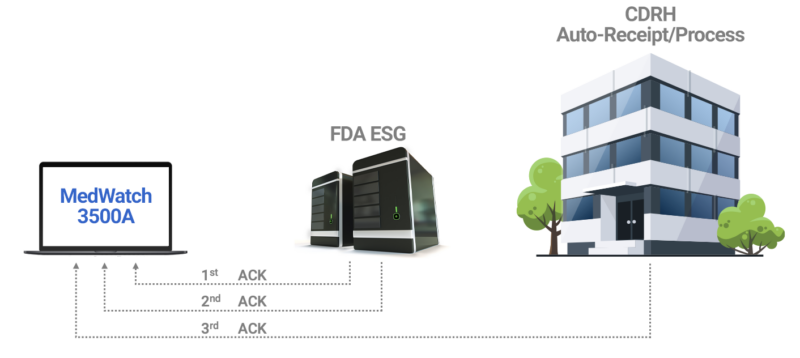 The FDA ESG receives an eMDR submission from the manufacturer and sends Acknowledgement 1 to the manufacturer/submitter confirming the submission was successfully received by the FDA ESG. Confirmation also contains a Message Integrity Check to validate that the submission was received intact.

Submission is automatically transferred to the FDA Center and the FDA ESG sends Acknowledgement 2 indicating the submission has reached CDRH.

CDRH validates and processes the submission and sends Acknowledgement 3 indicating the submission was successfully loaded into the Adverse Event database, or noting any errors that occurred during validation/loading.

All three Acknowledgements are attached to the MedWatch record as they are received. A dashboard provides at-a-glance Acknowledgement status from the AssurX eMDR home page.
A complete end-to-end solution with all acknowledgements attached to each submission
Control the entire MDR reporting cycle
Built-in dashboards with real-time tracking for all MDR submissions
Submission of five (5) and 30-day MedWatch reports, follow up reports and attachments
Central management of tasks with notifications, escalations, rules, and reminders
In addition to Medwatch 3500A, AssurX provides reporting solutions for EU MDR as well as other countries