Manage Multiple and Complex Changes Easier and Faster
Leverage Change-Readiness as a Strategic Advantage
AssurX QMS: Change Management Solution for Regulated Companies
As they say, change is the only thing constant, even in regulated environments where uncontrolled changes can jeopardize product safety and reliability. For regulated companies, any change in equipment, product materials, design specifications, formulations, processes, and quality documentation must be reviewed, investigated or tested, and approved. For this reason, change control is a critical element of quality management.
AssurX Change Control Management simplifies change control by automating and streamlining every step of the process, from change request and review through planning, approval, and implementation.
How AssurX Change Control Management Can Help You
The concept of a change control system in pharmaceuticals, medical device, diagnostics, and other FDA-regulated sectors is an inherent part of regulatory compliance. AssurX is designed to address change control requirements found in 21 CFR Part 820, Current Good Manufacturing Practice (CGMP) and 21 CFR Parts 210-211, ISO 9000 series, and ISO 13485 standards.
AssurX makes change control systematic and compliant. The following features facilitate a faster and compliant process:
21 CFR PART 11-COMPLIANT ELECTRONIC SIGNATURES

AssurX ensures that your electronic signatures adhere to the criteria for electronic records set by the FDA.

ESCALATION RULES

Avoid bottlenecks through automatic escalation of overdue tasks.

CONFIGURABLE DASHBOARDS

Stakeholders will always be aware of overdue and pending issues simply by logging in to AssurX. Dashboards can be configured for each user personality/role so they view only the tasks and items that are relevant to them.

SECURE, TIME-STAMPED AUDIT TRAIL

Change history is transparent to users and stakeholders, as well as auditors and regulators. The audit trail documents the identity of the user who creates or modifies an electronic record, when it occurred, and any changes made to a record.
Transform Change Control Management with AssurX
Many organizations cling to archaic, unconnected electronic systems or even paper-based processes due to budget concerns. They endure inefficiency, lack of transparency, and the risk of noncompliance. Modernize your change management process through an automated, interconnected system. With AssurX, you'll enjoy the following benefits:
Increased Accountability and Transparency
Change tasks are automatically routed and escalated so they can't fall through the cracks. Audit trails make it easy to see and track down who did what and when.
Effective and Convenient Collaboration
AssurX provides robust tools to facilitate collaboration, from change submission and review to planning of proposed changes to tracking of feedback and all the way through change approval and implementation.
Integrate your quality processes with change management quality-related tasks and activities. Change control management will be seamlessly connected with CAPA, audit, deviation, supplier management, and other quality processes.
Cost-Effective QMS Change Management System
AssurX QMS cloud-based change management software eliminates infrastructure and maintenance costs. If your business needs require an on-premise solution, AssurX offers that option as well. Either option reduces costs through centralization and automation. Furthermore, if you choose to migrate to a cloud solution later, the platforms are indistinguishable, and the transition is seamless.
SIMPLE AND INTUITIVE INTERFACE
We're not here to complicate things. We're here to make your job much easier. AssurX's Change Management Software's change request form is simple, clean and easy to use and won't require a colossal amount of time to train your users.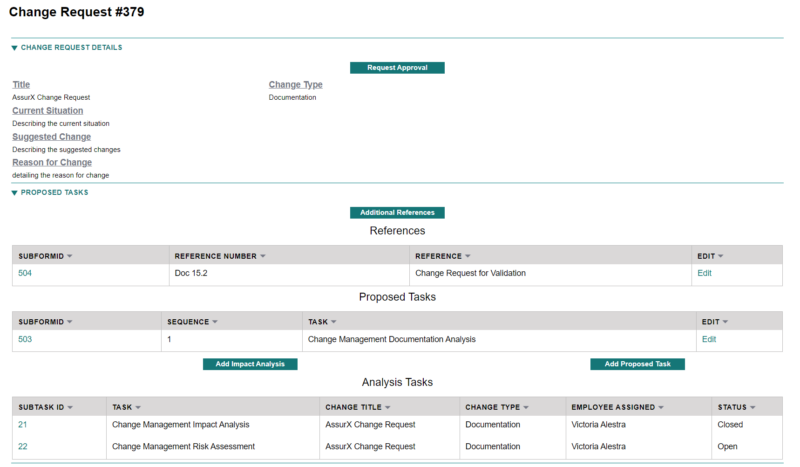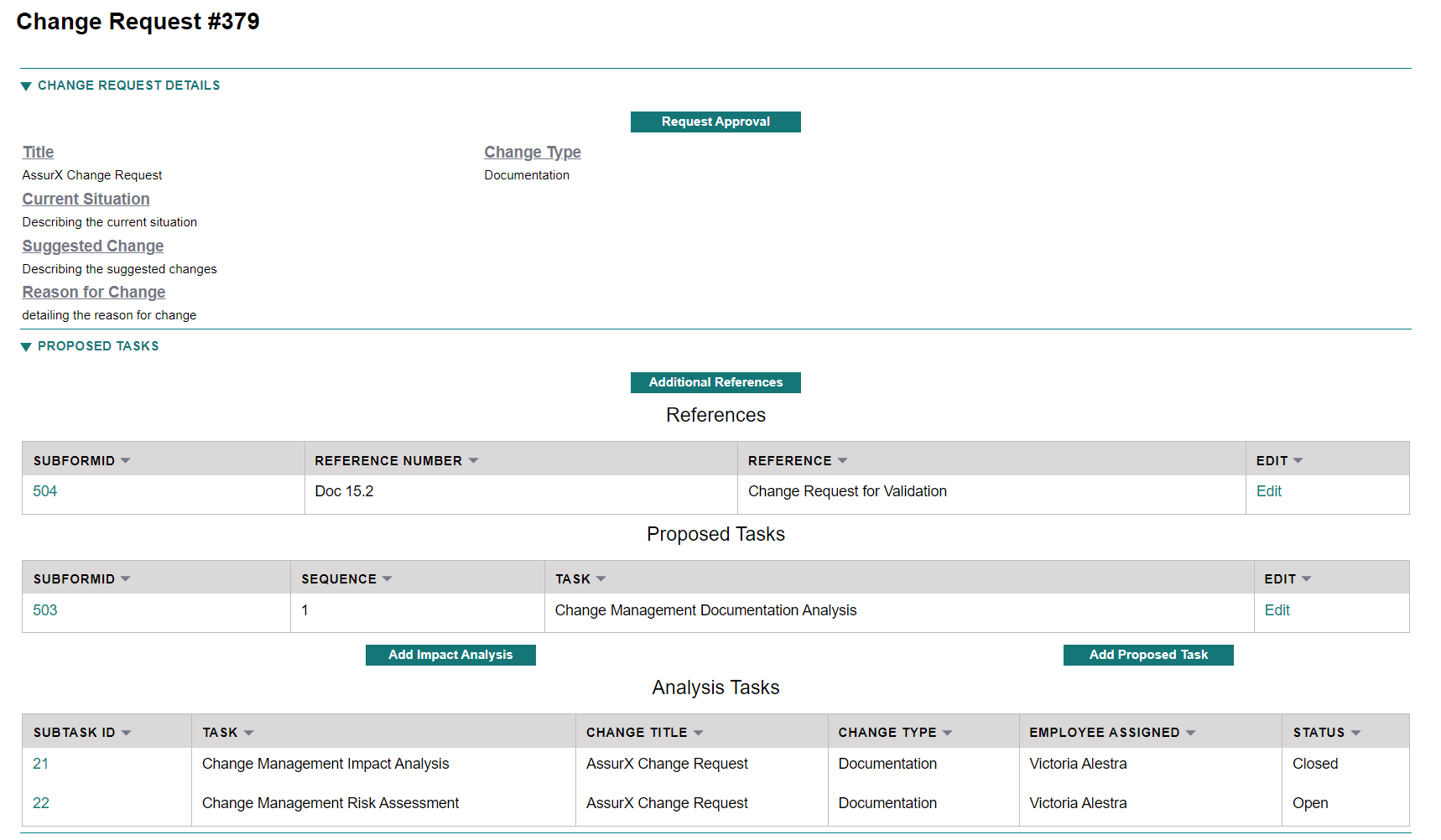 AssurX: Quality & Compliance Systems for Every Enterprise
When you choose AssurX, you're choosing decades of expertise in regulatory environments and innovation in quality management. Our unwavering focus on quality management means you're getting a best-of-class solution, not a scaled-down or inflexible software solution.