Systematically Manage the Entire Complaint Lifecycle
Manage risk, ensure patient safety and improve product quality with data-driven insights.
Complaint Management Software for Regulated Industries
Your postmarket surveillance process should ensure that all complaints are processed in a timely manner and in alignment with industry regulations. AssurX Complaint Management Software is designed for industries that require a robust system to document, review, and report applicable adverse events to the FDA and other international bodies.
While most applicable to the postmarket surveillance demands of the life sciences industry, quality-centric organizations across markets are electing to implement a strong complaint management system to protect consumer confidence and health, pinpoint where incidents are occurring, and make continual product improvements.
AssurX helps organizations meet compliance with regulations including:
AssurX Complaint Management Software is designed for industries that require a robust system to document, review, and report applicable adverse events to the FDA and other international bodies.
REVIEW
Prioritize complaints based on risk and objectives. Analysis of data collected will help you determine whether a complaint or quality issue is valid and/or reportable. Verified adverse events can be electronically reported within specific deadlines to FDA, the European Union, as well as other regional regulatory bodies globally.
INVESTIGATION
Complaints deemed valid during the review stage are categorized according to risk to prioritize investigations. Robust workflow rules move the complaint through a task and sub-task cycle to manage deviations and nonconformances.
CASE STUDY
Moving from paper processes to an automated enterprise quality and compliance system, the AssurX platform enables the medical device manufacturer to improve the speed of investigations by integrating directly with Salesforce to automatically create records for complaints without data re-entry.
Integrated Complaint Management for a Modern Quality Management Software System
AssurX seamlessly integrates complaint handling to improve quality and compliance, minimize recalls, and present data for continuous improvement. The system clearly identifies where events are occurring and trends are happening, allowing you to make data-driven, risk-based decisions to prevent future incidents and demonstrate compliance.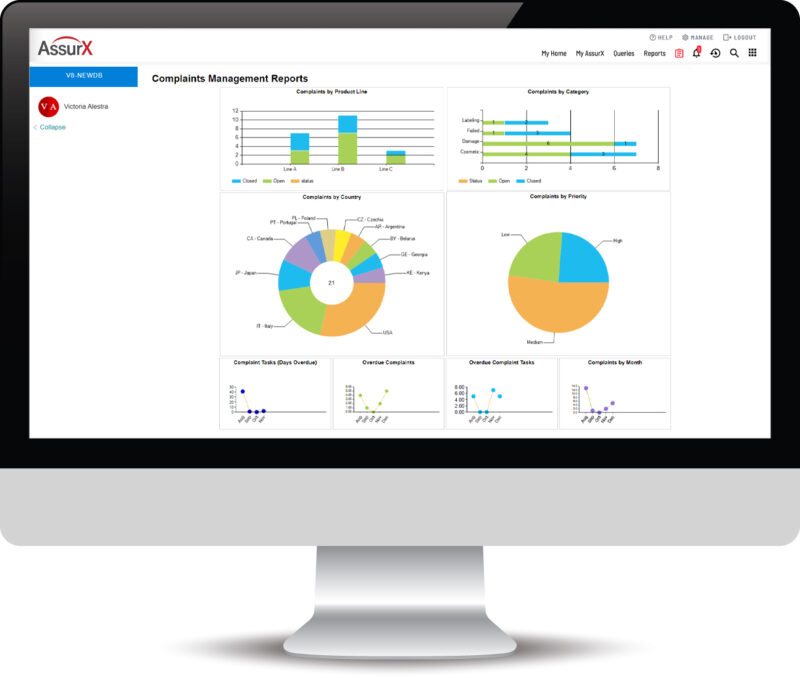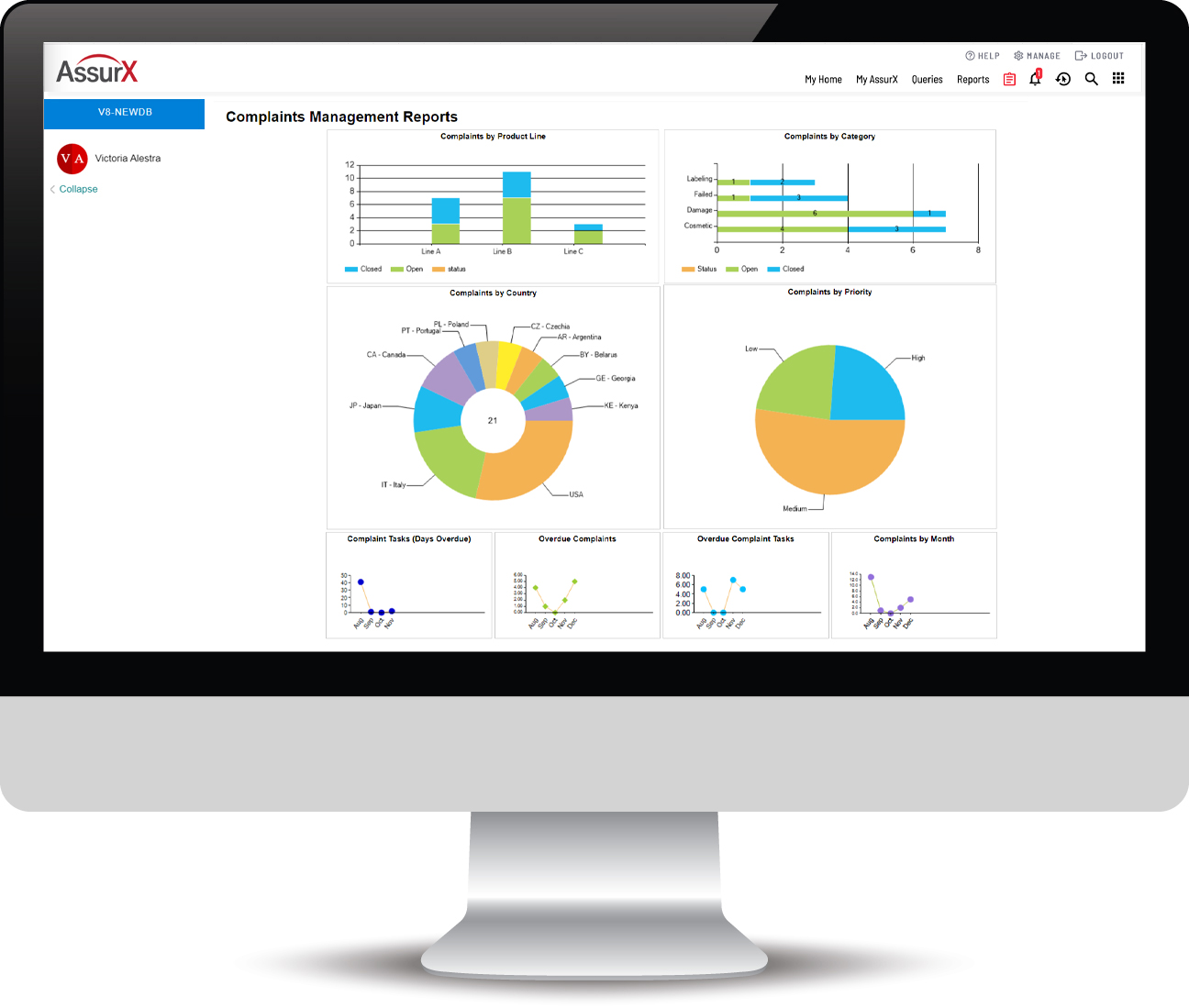 Unmatched Configurability

AssurX's Complaint Management Solution is highly configurable to meet the unique demands of our customer. Scale the complaint management solution to align with your company's needs in both clinical and commercial phases. Guided workflows navigate users through the right documentation and reporting for each complaint from intake to closure.

A True QMS Platform

AssurX provides a single, closed-loop system of processes that can integrate from day one to close the loop on complaints including Deviation Management, Audit Management, Risk Management, Document Management, Training Management, Supply Chain Quality, and Change Control Management.

Enterprise System Integration

Integrate enterprise systems including MES, LIMS, PLM, ERP, and others to extend your quality ecosystem for downstream activities such as post-market investigations and reporting. Harmonize collaboration between R&D, manufacturing, suppliers, and all areas of the business responsible for outputting high quality products. Achieve unmatched visibility into the device history.

Greater Compliance Control

Dashboards, analytics, and reports indicate the state of compliance based on trending issues and associated risks. Configurable decision trees determine rule enforcement paths, including launching corrective actions and report submission for regulatory requirements. Built-in performance metrics enable oversight of KPIs to enable a perpetual state of compliance. AssurX provides full traceability through audit trails and electronic signatures as required for 21 CFR Part 11 compliance.
AssurX: Quality & Compliance Systems for Every Enterprise
When you choose AssurX, you're choosing decades of expertise in regulatory environments and innovation in quality management. Our unwavering focus on quality management means you're getting a best-of-class solution, not a scaled-down or inflexible software solution.