Validation Solutions
Ditch the paper, validate faster with AssurX AutoValidator.
Automate Test Execution with the AssurX AutoValidator™
Automated Software Testing that works to ensure your quality system is in a constant state of control.
Safeguard the quality of your application without sacrificing speed or agility with an easy-to-use automation tool. The AssurX AutoValidator empowers customers to plan, prioritize, design and track validation tasks by priority in one centralized solution.
AssurX AutoValidator can help you:
AutoValidator is a flexible record and playback testing tool that helps your team, regardless of skill level, quickly run test scripts.  Simply record your test and use the automated playback to ensure the critical application features are working correctly and provides the businesses the confidence that everything remains stable during development.
Set custom settings to capture screenshots before and after step execution, generation emails, set retry counts and time and run in multiple browser types are just some of the key features available.  The AutoValidator provides the ability to monitor results, generate reports and create issues directly from the tool.
Rather than start from scratch, AssurX has pre-recorded scripts that can be leveraged to run immediately or use as a starting point for your configured solutions.
AutoValidator integrates with the AssurX Validation Management Solution (VMS) to create a paperless quality process which allows for repeatable requirement gathering, validation planning, scheduling tests, analyzing results and managing configuration issues.
The AssurX Validation Management Solution and the AutoValidator are a powerful combination. Together, they allow the ability to work within any validation framework. Conduct both manual and automated testing, complete requirement traceability, increase visibility on configuration issues, and generate detailed validation reports.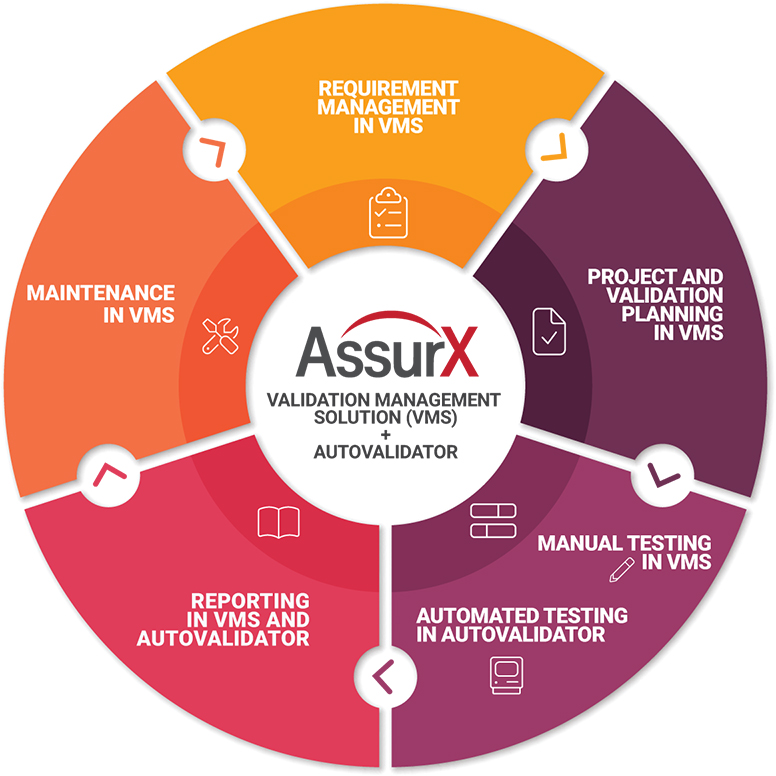 Reduction in long-term validation costs

Streamline validation and qualification activities

Greater insights into the application lifecycle

Treat multiple validation cycles simultaneously

Minimization of compliance risk