Validation Management Services
Maintain Quality Software Control & Compliance with AssurX Validation Management Services
Software validation is a critical requirement for a successful software implementation/upgrade but can be the most time-consuming and challenging phase. Regardless of configuration, risk, or complexity, AssurX Validation Management Services can evaluate your business and system requirements, environment, and system architecture to create validation packages that ensure a successful implementation and satisfy your organizational and regulatory requirements, including FDA 21 CFR Part 11, EU Annex 11, ISO 13485, and others.
With the FDA's shift to Computer Software Assurance (CSA), AssurX has developed a risk based validation model that provides customized validation services based on a critical thinking approach that supports the GAMP 5 Model. CSA encourages automated testing as well as the acceptable use of vendor documentation and formal testing of the installed software. The new approach reduces the amount of redundant documentation and validation activities and increases the focus on ensuring the software works as intended in the installed environment.
Validation Management Services Process and Deliverables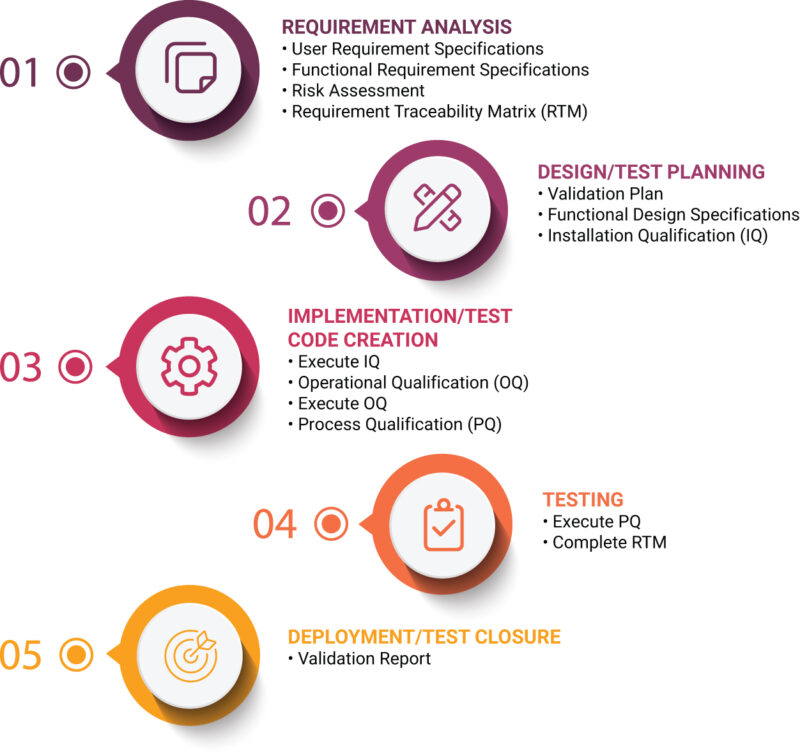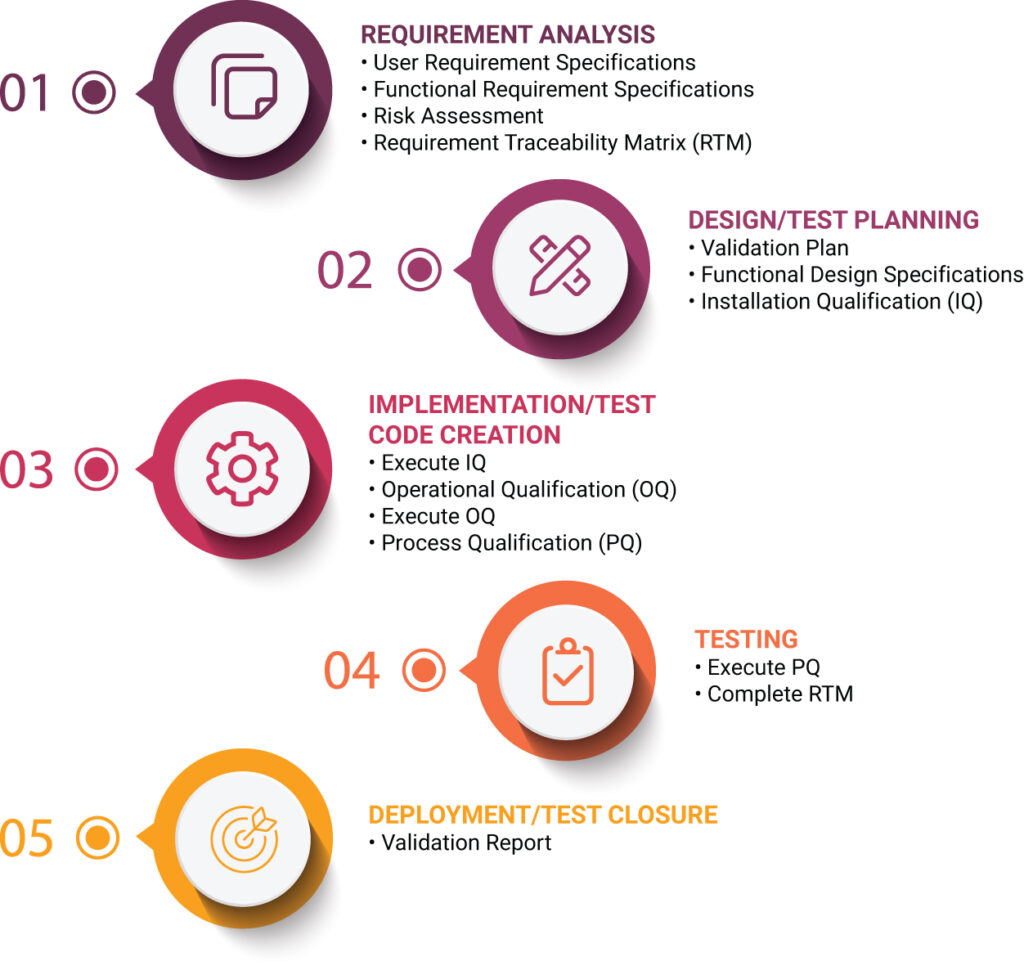 ASSURX VALIDATION PACKAGES
AssurX Packages provide all the necessary project deliverables and validation activities needed to fulfill all validation project requirements. AssurX packages reduce the overall computer system validation project time by leveraging our extensive experience and complete packages, helping to decrease production time without compromising compliance or quality. Packages include pre and post environment validation to ensure your system is validated for your intended use.
Using AssurX Packages and Templates is an ideal starting point for your own configurations and validations of the AssurX Solutions. Our team creates a partnership between your company, professional services and validation to create a seamless software release process.
CUSTOM VALIDATIONS
Our validation services team is available to guide your validation efforts by providing traceability through every stage of the software development and software testing lifecycle to ensure complete testing and validation coverage.
There is no one-size-fits-all approach to software validation. AssurX is dedicated to helping your company raise quality levels, reduce costs, and maximize your team's productivity aligned with an organization's internal software validation procedures to ensure you feel confident before every release.
As part of our Validation offerings, the AssurX Validation Management Solution and AutoValidator™ incorporate quality procedures including GAMP 5 to seamlessly integrate with your established company SOPs, requirements, guidelines and templates for validation deliverables.
Benefits of AssurX Validation Services
Reduce cost and time-to-completion with custom validations that satisfy regulatory guidelines.

Reduce your time to go-live by leveraging the expertise of professionals with extensive practical experience.

A validation services team that operates independently from implementation services to eliminate any perceived bias in the process.

Utilize Validation Management Services as needed to minimize validation of future enhancements and configuration changes.
AssurX Validation Timeline Efficiencies (in Months)
The AssurX Validation Management Solution
To further fine-tune and automate your validation process, AssurX offers a Validation Management Solution to design sustainable solutions adapted to your unique requirements. Clients engage with AssurX validation services experts to implement the solution.
Working in conjunction with the AssurX Autovalidator, the two solutions provide the ability to create a paperless quality process that allows for repeatable requirement gathering, validation planning, scheduling tests, analyzing results, and managing configuration issues.