Risk Management in a Modern Enterprise Quality Management System
Minimize risk. Improve operations. Create business opportunities.
Utilizing the right technology and practices for risk management enables consistent, risk-based decisions that extend across the product lifecycle. AssurX Risk Management Software facilitates the continuing process of risk scoring, identification, assessment, mitigation, and prevention.
Integrated quality risk management allows you to take proactive steps to prevent problems, or have processes in place to resolve them. AssurX provides visibility into your enterprise-wide state of risk, including quality system processes, procedures and products.
Using quality risk management is a continuous process that minimizes risks to product quality throughout the lifecycle in order to balance benefit and risk.
Quality Risk Management Aligned with Industry Standards
The core methodology of AssurX Risk Management is consistent across industries. Therefore, it is easy to adapt based on industry needs, including Life Sciences (Medical Device, Diagnostics, Pharmaceutical, Biotech), Food & Beverage, as well as other manufacturing enterprises (High-Tech, Consumer, Industrial).
AssurX allows you to effectively manage:
Risks associated with failure or breakdown of a QMS process

Risk of product failures and/or product quality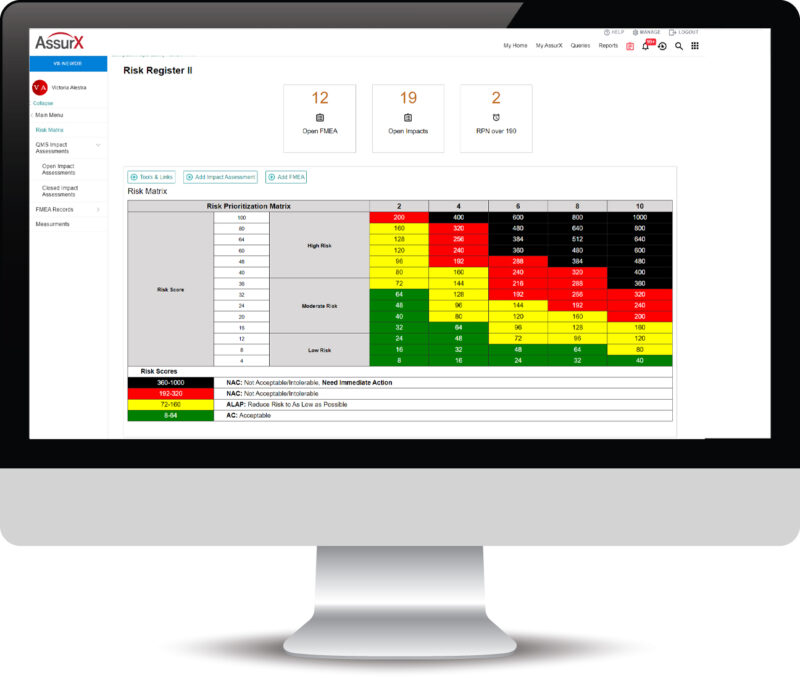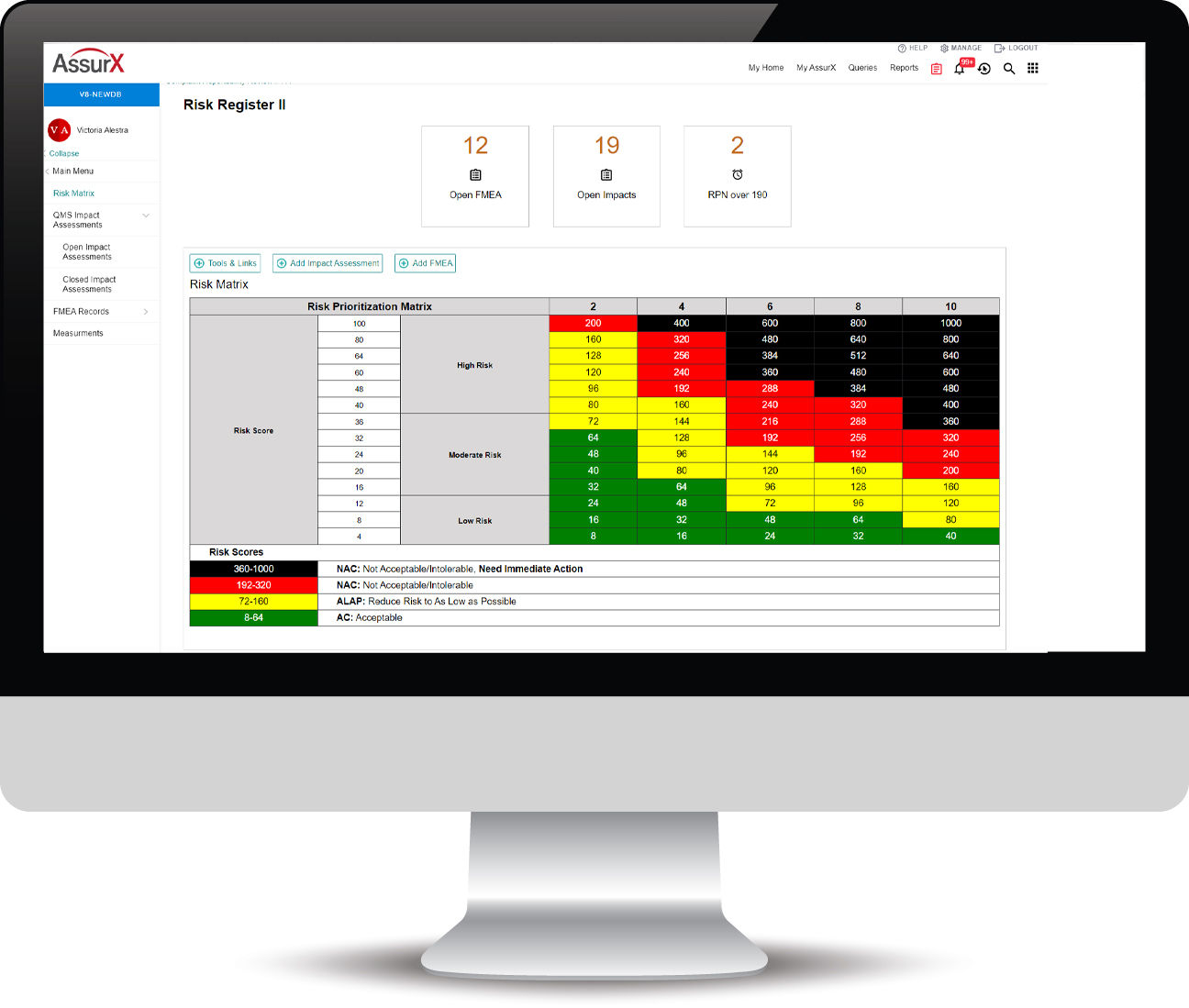 The AssurX Risk Management Solution supports compliance objectives aligned with the following standards and guidance:
Benefits of Integrating Risk Management into the EQMS
AssurX Risk Management software is highly configurable, enabling you to create workflows with decision paths that satisfy the needs of your organization. Risks initiated from any source are automatically associated with related product records across the system, forming an enterprise level approach for rapid mitigation. AssurX's flexibility and intuitive approach to managing risk results in significant benefits including:
Simplified Compliance Through Quality Risk Management

Risk tools embedded within the EQMS streamlines compliance with regulatory and organizational requirements because risk is incorporated into quality processes and daily activities.

Integrated risk tools allow you to document risk-based activities with:

Data analytics and reports

Audit-ready compliance records

21 CFR Part 11-compliant electronic signatures and audit trails

Documentation of verification activities such as audits and FMEA reviews

Records of risk assessments associated with change control activities

Improved Operational Efficiency

Integrating quality risk management reduces the time and costs associated with risk assessments and makes operations more efficient by prioritizing issues with the biggest impact on the company. Efficiently route tasks down the appropriate path for actions, escalations and exceptions.

Launch risk assessments from events such as complaints and deviations

Search historical records to identify similar events

Notify responsible parties for management review

Calculate risk scores based on a risk matrix

Determine whether risk is acceptable or unacceptable

Review notifications from failure mode and effects analysis (FMEA)

Enterprise Visibility into Quality Risk

Quality risk management enables greater visibility into risk using predictive metrics that indicate where problems are most likely to occur and whether corrective actions were effective. Proactively identifying risk trends at the strategic level can eliminate major effects on the entire company. Configure recurring events to trigger risk assessments, and use audits to verify risk activities and conduct risk assessments on failed audit questions.

Informed Decision-Making

Risk management software allows you to document and demonstrate risk-based decision-making for regulators and as well as company leadership. Gain insights into universal metrics that make decisions more objective. AssurX risk management software takes the subjectivity out of competing business decisions and turns the focus to data-driven indicators for product failure, potential consumer harm, and business losses. AssurX enables agile, risk-based decision making with top-level views of risk through reports, dashboards, notifications, and escalation activities.
AssurX facilitates risk-based thinking into the deployment and management of an enterprise quality management system (EQMS). Risk Management is incorporated into the following AssurX solutions:
AssurX: Connected Quality and Validated Compliance
AssurX provides expert technical and program management oversight for customer deployments around the globe. We employ a structured implementation process, providing a consistent method for architecture design.
AssurX: Quality & Compliance Systems for Every Enterprise
When you choose AssurX, you're choosing decades of expertise in regulatory environments and innovation in quality management. Our unwavering focus on quality management means you're getting a best-of-class solution, not a scaled-down or inflexible software solution.