This is the first installment of a two-part series focusing on the importance of a quality management review for companies in regulated industries.
What is a quality management review (QMR)?
A QMR is a formal process for assessing the performance of a company's quality management system (QMS). The aim of the review is to assess the quality management system for: adequacy or sufficiency, suitability to purpose, and effectiveness. In addition, a quality management review allows organizations to decide what next steps are required to develop and improve the current approach to quality.
According to ISO standards, "The management review process requires Top Management to periodically review the Quality Management System to ensure its continuing suitability, adequacy, and effectiveness while addressing the possible need for changes to quality policy, objectives, targets and other elements of the QMS."
Generally, QMR meetings are held annually, although some companies elect to use a more continual review process. Still others build their review agenda into existing board meetings, management briefings, or other meetings to divide the agenda into more manageable sections. Further, the frequency of a QMR may change during times of transformation, or in response to critical issues. In addition, some companies make a review mandatory for all divisions, while others require only the departments involved in running the QMS.
Why do you need a Quality Management Review?
There are several reasons that QMRs are necessary. Primarily, QMRs are performed because they are required for regulatory compliance. Life science companies including pharma, biotech, medical device and diagnostics manufacturers must show proof that quality management reviews have been executed. In addition, companies that follow ISO Standards are required to conduct them. Here are a few examples:
 A quality management review has significant benefits beyond satisfying external audit requirements. Most importantly, QMRs enable management to review inputs and data and make informed improvements that align with quality objectives.
Quality Audit vs. Quality Management Review
If you're wondering whether a periodic quality audit is sufficient, the answer is no. Audit results are just a piece of what you need in a QMR. In fact, a quality management review might result from unexpected audit findings. The review is an important process that helps identify continuous improvement initiatives which are at the core of the ISO 9001 standard.
The key inputs necessary for an effective quality management review include:
QMS documentation (for assessment of system performance)
Any significant changes to the QMS
Audit reports (internal and external audits)
Customer feedback
Corrective action and preventive action (CAPA) reports
Results of the previous QMR (i.e., any follow-up actions)
Any new or revised regulations that impact QMS requirements
Training needs
Personnel issues (staffing changes that affect the QMS)
Other company events or developments that impact quality management
The Quality Management Review Team
Depending on a company's process, a quality management review may be performed by different people. In some cases, the quality team leads the review. In others, a senior executive may spearhead the review with support from the quality, regulatory affairs, and other relevant teams.
Ultimately, it makes the most sense to include representatives from all functional areas in the quality management review. In the end, each group shares some ownership in the goal of improving product quality and ensuring customer satisfaction. For example, senior management is responsible for allocating the right budget and resources. In addition, customer service/care holds valuable data and insights.
QMR is about reviewing all available data to confirm that the best decisions are being made to improve products, drive customer satisfaction and improve quality processes. Each review should culminate in possibilities for improvement and changes to quality policies and objectives.
It only makes sense that your people, processes and technology are always working optimally.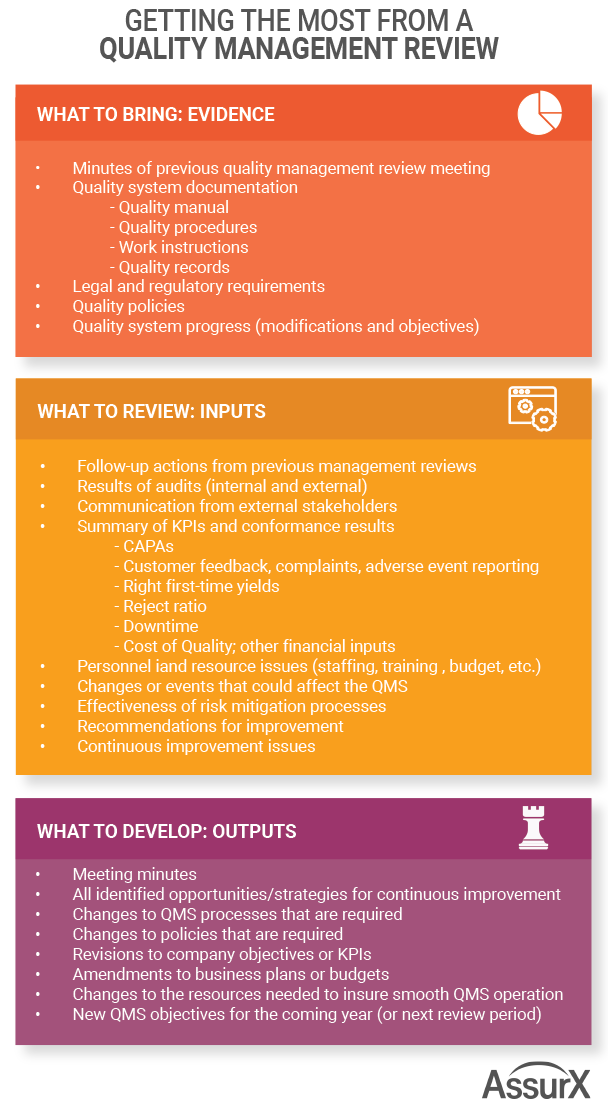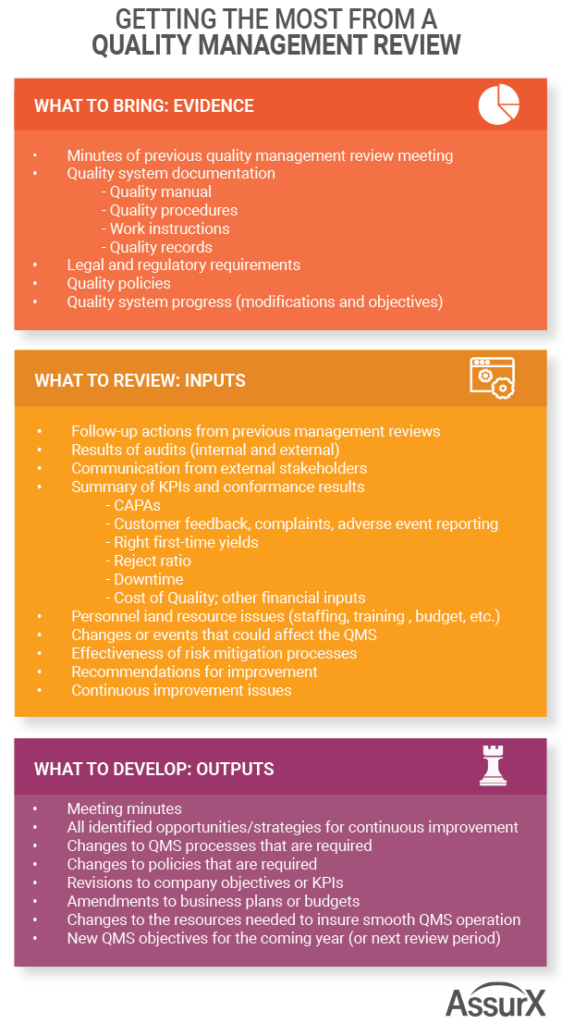 The quality management review is a process within itself. It serves to assess performance, review key inputs/evidence and productivity, while driving improvements within the quality system. An automated QMS significantly improves data integrity and evidence quality, and can efficiently automate task management associated with the review.
How to Leverage a Quality Management Review
Regulated companies often see a QMR strictly as an obligation to fulfill. In a sense, QMRs are like annual wellness physical checkups. Just as patients benefit from early discovery of illness through proactive screening, so does the organization through periodic assessments.
When quality health is taken seriously, better decisions are made and put into practice.
Quality Effectiveness: Determine if your products pass quality assurance and quality control the first time. From the start, define the most relevant KPIs most relevant to your organization and the effectiveness of your QMS.
For example, examine the incidents of downtime in the last year, find the causes and initiate corrective action if needed. What issues cause downtime? Is it due to equipment maintenance? Are supplier delays a significant cause? What are other causes?
Quality Improvement: Instead of viewing a QMR as an exercise of compliance, use it as a jumping point for making quality improvements. As a best practice, define the most important key performance indicators (KPI) for your QMR and use them to pinpoint areas for improvement.
Customer Satisfaction: Customer satisfaction is one of the most crucial KPIs to monitor and improve. You can conduct customer surveys to gather concrete feedback. The number of customer complaints can show you customer dissatisfaction. Alternatively, customer referrals demonstrate satisfaction and loyalty.
It's counterintuitive to change KPIs with every review. Alternatively, take the time to track and monitor results before deciding if certain KPIs are not generating the information you need. With the right KPIs, you will be able to analyze and evaluate the health of your QMS better. ISO 9001 standards specify some of the documented deliverables you need to generate from a quality management review, including:
Opportunities to improve the QMS
Any changes needed to improve the QMS
Resources needed for those changes
Conclusion
Don't dismiss a quality management review as just another compliance requirement and a protracted meeting. Significant quality enhancements can come from structured QMRs with clear KPIs and improve all areas of the quality chain. QMRs are opportunities to adopt a culture of continuous quality improvement. Furthermore, it's a process within itself that stabilizes and improves quality management and helps unite an organization toward a common goal of business excellence.
About the Author
Kevin Tom is Director of Product Management for the Life Science and Manufacturing industries at AssurX. Kevin is responsible for driving customer value and product growth through innovation and strategic product vision. He brings over 10 years of information technology experience in several functions, including ERP consulting, system implementations, and QA/project management for web-based configuration platforms.  Additionally, he has 10 years of progressive product management experience in both the chemical and nylon plastic industries, and 10 years of supply chain leadership experience in both the generic drug and medical device markets.
Related Reading: Have You Transitioned to Quality 4.0?