This is the second installment of a two-part series focusing on the importance of a quality management review for companies in regulated industries.
One of the most important parts of any enterprise quality management system (EQMS) is the quality management review (QMR). If you work in a regulated or ISO-certified organization, QMR is a requirement. This article looks at common quality review challenges and explores ways to making the most of a quality review.
Internal Audit Versus Quality Management Review
A quality management review is not the same as an internal quality audit. While they both capture a snapshot of your QMS health and are required for compliance, that's where the similarities end.
Internal audits focus on specific processes, such as document control, training management, and corrective action and preventive action (CAPA). Hence, it's common to conduct internal audits to verify that each process is doing what it's designed to do. For example, internal audits effectively determine if SOPs for each process are current and cover regulatory requirements. In addition, audits can determine if processes are effective in mitigating quality risks.
Some companies conduct QMS audits to look at how efficient the system is and how well different processes integrate within the system. Therefore, internal audit results are critical information that should be included in a QMR, but can't replace a QMR. The management review focuses solely on the requirements of the quality management system, which should already be comprehensively documented.
4 Common Quality Management Review Challenges and How to Overcome Them
Regulations and standards such as 21 CFR Part 820 and ISO 13485 for medical device firms require a QMR to demonstrate top management's commitment to quality. Likewise, the ICH Q10 guidance for pharmaceutical industry and biotechnology industry calls for reviews as part of management accountability.
While compliance is necessary, the regulation doesn't provide a framework for conducting a review. As a result, each company must create its own evaluation framework and define relevant KPIs to measure the performance of its QMS. This allows flexibility to perform reviews based on unique needs, but often creates uncertainties that lead to the common challenges.
Challenge #1: A quality management review can be a heavy burden.
In most cases, the quality team carries the burden, from planning through implementation and reporting. Regulations and ISO standards require meeting documentation, including when meetings should occur, the agenda/content, what was covered, and a list of attendees. So, a QMR is a big job for just one team. In many cases, the quality team bears the responsibility because other departments don't think "quality" is their job. Unfortunately, they may not feel invested in the company's quality objectives and may not be familiar with the QMS.
Solution
As mentioned in Part 1 of this series, it is best practice to include representatives from all functional areas in the quality management review. Each group shares some ownership in the goal of improving product quality and ensuring customer satisfaction.
To begin, start at the top. The words "top management" in QMR indicates that at least one executive should be involved in the review. In addition to top management, all process owners should be part of the QMR team. While quality processes (document control, audit, etc.) are likely to be owned by the quality team, processes such as nonconformances and deviations may involve the manufacturing and/or production team. Furthermore, regulatory affairs may own compliance processes, for example, FDA submission regulation affects the QMS.
In some situations, breaking up a QMR into smaller, specific sessions makes it easier to include the right people at the right time.
Challenge #2: Waiting until the last minute to prepare for a QMR.
Organizations that see a review as just another mandatory meeting often wait until the last minute to prepare. This is prevalent in quality management review challenges. Many fall victim to the mindset that QMRs are just a repurposing of internal audits, hence the last-minute planning. As mentioned, audit results are just a part of the review.
Other inputs include: QMS documentation, any significant changes to the QMS, customer feedback, CAPAs, results of the last QMR (for follow-up actions), and new or revised regulations impacting QMS requirements. A QMR also requires deliverables that your quality audit might not generate. They include identifying opportunities to improve the QMS, changes needed to implement such improvements, and resources needed for those changes.
Solution
An important part of your planning should be to plan your meeting well in advance. Next, create your agenda with input from all meeting stakeholders to make sure all topics are covered (your agenda is also a requirement for FDA and ISO). A detailed and approved agenda will help ensure all topics required to be covered are addressed. Furthermore, a sound agenda is extremely helpful if you hold multiple reviews focused on different topics.
A quality management review should, at minimum, cover the following topics:
Discussion on the status of any issues still open from the previous meeting
Changes to external and internal issues that affect the management system

Regulatory and corporate compliance
Legal requirements
Organizational changes
Quality management system enhancements
Internal and external audit reports
Policies review
Examination of the performance of the management system

Functionality
Documentation
Assessment of KPIs and identification of gaps, issues and trends

CAPAs
Customer feedback & complaints (regulatory reporting for adverse events, if applicable)
Right first-time yields
Reject ratio
Downtime
Gross margin / other financial inputs

Review of available resources and whether they are adequate
Evaluation of the effectiveness of risk mitigation
Evaluation of responses to formerly identified opportunities
Identification of new opportunities for improvement
Challenge #3: Extensive time spent preparing for a QMR.
If your company takes months to prepare for an annual QMR, you should ask yourself why. Is it because your QMS consists of manual, paper-based processes and unconnected electronic systems? If so, you may have a more fundamental problem. Even if manual processes yield accurate results, the time/effort to collect and present data and evidence might be very inefficient.
Solution
For your next review, ask each contributor to document the number of hours they spent in preparation for the meeting. The true amount of labor hours trying to pull unstructured data into a standardized format may surprise you. In addition, you can use those figures to calculate the ROI of a modern, automated QMS.
The FDA and ISO continue to focus on quality management guidelines that focus on data, documentation and risk-based decisions. If you can't rapidly access metrics and make data-driven decisions, it's time to automate your QMS to a closed-loop platform. Likewise, if your ERP, PLM, LIMS, and other systems are unconnected, integrating them under one system increases efficiency and effectiveness. If all your quality documentation is in one place, you won't need months to prepare for your next QMR.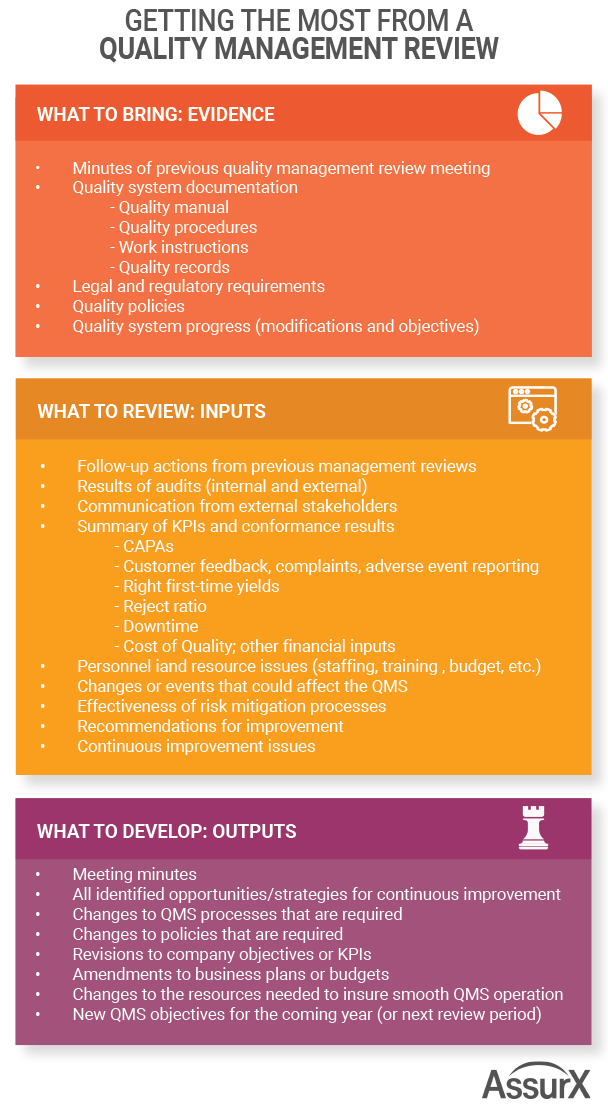 Challenge #4: Departments question the value of a QMR.
This quality management review directly challenges the common misconception that quality is the sole responsibility of the quality team. Plus, it indicates the absence of a culture of quality within an organization. Ironically, regulations and standards consider a quality management review as an important tool for fostering such a culture.
Solution
Start by forming a cross-functional QMR team that will help infuse the value of quality in every department. Automation that connects users and teams with quality processes can also boost a culture of quality. Share your quality vision and achievements organization-wide in corporate newsletters and company meetings.
Conclusion
Start preparing for your next QMR by changing your expectations and mindset towards total quality. Make every quality management review more than a list of deliverables attained through another lengthy meeting. An intuitive, configurable QMS can alleviate most quality management review challenges. Transitioning to an automated QMS demonstrates commitment to quality to the organization as well as auditors.
About the Author
Kevin Tom is Director of Product Management for the Life Science and Manufacturing industries at AssurX. Kevin is responsible for driving customer value and product growth through innovation and strategic product vision. He brings over 10 years of information technology experience in several functions, including ERP consulting, system implementations, and QA/project management for web-based configuration platforms.  Additionally, he has 10 years of progressive product management experience in both the chemical and nylon plastic industries, and 10 years of supply chain leadership experience in both the generic drug and medical device markets.
Related Reading:
Six Habits of Highly Effective Quality Leaders
How and EQMS can Reduce CAPA and Complaint Observation Trends