Imagine that you're a manufacturer of skincare products detecting a spike in complaints about a specific eye cream causing skin irritation. Your initial investigation helps isolate the plant where it occurred, and when the problem started. As a result, you put the lots from that location on hold.  In theory, your quality system should have prevented this problem. So, how did it happen? One place to look as you conduct root cause analysis is the product development process itself, specifically, failure mode and effects analysis (FMEA).
Companies typically use FMEA in product development and research and design (R&D). However, it's also a useful tool for root cause analysis and investigations, providing details around causes of problems, and whether controls are sufficient to prevent them.
In this article, we look at how FMEA works and how it's applicable in root cause analysis. We also examine common mistakes with this method and how an enterprise quality management system (EQMS) reduces risks to customers and your business.
What Is Failure Mode and Effects Analysis (FMEA)?
Failure mode and effects analysis (FMEA) is a living document that identifies how a product or process could fail. It is used to calculate overall risk of each failure mode from its likelihood of occurrence, severity, and probability of detection. Types of FMEAs include:
Process FMEA (PFMEA)
Design FMEA (DFMEA)
Quality FMEA (QFMEA)
How FMEA Works
FMEAs are used during product and process development stage gates to reduce the risk of quality escapes. Risk is the likelihood and potential impact of a problem, and these two dimensions are central to how FMEA works. The FMEA should define:
The process step, input, or product being analyzed
Known potential failures
Severity or impact of each failure
Likelihood or occurrence of each failure
Probability that current controls will detect each issue
Recommended actions to prevent each failure mode
The person responsible for completing those actions
Actions taken, including the date
In an FMEA, you multiply the relative rankings of severity (S), occurrence (O), and detection (D), the product of which is risk priority number (RPN). The RPN helps determine which failure modes you need to address first to mitigate risk. The goal with mitigation or corrective action is to reduce the RPN overall for each identified risk.
FMEAs can be used with other root cause analysis tools. For instance, root causes identified in an FMEA can serve as a jumping off point for an 8D or 5 Whys investigation. Conversely, the results of those investigations should inform updates to the FMEA, and become a part of continuous improvement efforts.
Using FMEA for Root Cause Analysis: A Practical Example
FMEA is helpful for root cause analysis because it gives you a list of likely failure points to investigate. It also helps you assess whether existing controls for those failure modes are truly effective at addressing the root cause of problems.
To understand this better, let's look at a real-world example. Below is an FMEA centered on the process of making coffee.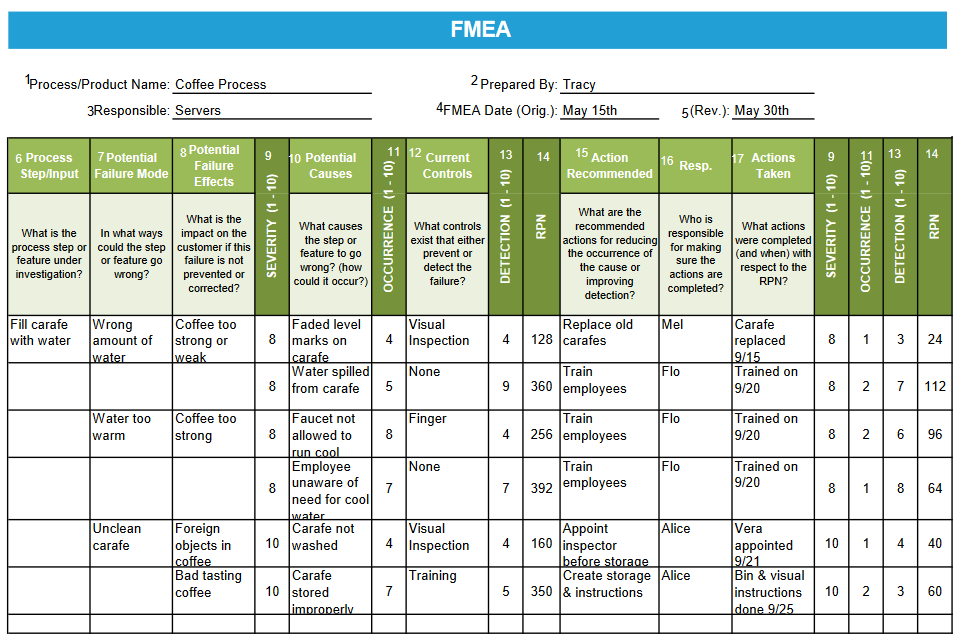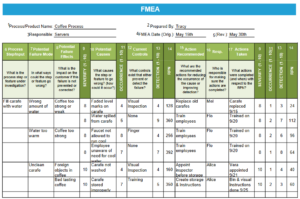 In this scenario, imagine that you've received several complaints of coffee tasting too strong. You pull up your FMEA and see that there are a couple of potential failure modes and causes that can contribute to this problem:
The wrong amount of water is used, either due to faded marks on the carafe or water spilled from the carafe.
The water is too warm because the faucet isn't allowed to run cool.
The RPN is highest for water being spilled from the carafe. However, after speaking with employees it appears they all know to check for this problem. Next, you look at the problem of the faucet water being too hot. Then, you discover that several employees have not been letting the water run cool before filling the pot.
Looking deeper into the controls, you realize that you need to update training materials to account for this particular failure mode. As a result, you're able to close that gap in your process and ensure that future training will cover it.
Mistakes to Avoid with FMEA
The most common pitfall with FMEAs is not keeping the documents updated. Subject matter experts from Engineering, Quality, Operations, Regulatory or R&D should periodically review FMEAs to make sure they account for emerging risks, including recent:
The other main problem is getting people to use them more effectively. FMEAs are often in books that people rarely use, either because they don't know where to find them or because the documents are out of date.
Digitizing your documents in an EQMS helps solve these problems, making FMEAs easy to find, review, and update.
Get strategies, tips, and best practices on
Using FMEA Within the EQMS
The EQMS can trigger a review of FMEA components in a variety of situations, for instance, after a complaint, corrective action, or change control initiative. Conversely, changes to FMEAs may affect other documents and processes such as:
Process documentation
Material Specifications
QC testing documentation
Standard operating procedures (SOPs)
For an example, let's return to our original scenario with the eye cream. Imagine that after reviewing all potential root causes in the FMEA, you find everything working the way it should be. Your next step is doing a 5 Whys investigation, where you find a spike in a contaminant due to a low washing exchange rate in the process.
Next, you arrive at the root cause: an electrical pump is only running at half the RPMs of the previous pump, resulting in a lower flow rate.
In this situation, you want to be sure to trigger an update to the FMEA within the EQMS, also using it to:
Track corrective actions
Update spare parts identified as critical to quality (CTQ)
Manage calibration and preventive maintenance changes
Activate or update change control processes
Revise testing specifications
Conclusion
At the end of the day, FMEAs aren't just a form to complete, file, and forget about. They are part of a holistic process for mitigating risks and investigating failures. Once you have information flowing between different processes, you can declare you have a closed-loop process that reduces risk. Finally, an EQMS is essential to close the loop, confirming that you've addressed the small details that add up to big quality escapes.