In regulated environments, quality management training is a requirement for good reason. A workforce with proper training is key to improving quality and minimizing issues that affect product safety.
FDA regulations such as 21 CFR Part 211 for pharmaceutical companies and 21 CFR Part 820 for medical device firms require training as part of quality management. ISO 13485 for medical device companies and ISO 9001 for quality management systems have similar requirements. Not only do these regulations require quality management training for employees, but they also call for proper documentation of the training.
Training for compliance is a dynamic process. Beyond on-boarding, quality events may prompt training, including the introduction of new SOPs and implementation of process changes due to corrective action and preventive action (CAPA). In addition, employees may need retraining over time to reinforce important practices and policies.
Quality Management Training Best Practices
How can you improve quality management training in your organization? Policies, SOPs, work instructions, manuals, and other materials reflect organizational quality standards, but only on paper. What makes quality a reality is transferring that knowledge to your employees for practical application. Here are seven best practices to help you improve training compliance within your organization.
1. Automate your manual or hybrid quality management system.
A manual system can only go so far. As your company grows, so will the volume of training events. By switching from a manual/hybrid system to an electronic enterprise-wide quality management system (EQMS), you'll enable your organization to focus on the effectiveness of your training program instead of routine tasks.
With an EQMS, your training management system will be connected with other quality processes for a holistic approach to compliance. This integration ensures that any critical changes that affect compliance are addressed in a timely manner. An example of this connectivity can be seen within the corrective and preventive action process: For example, a CAPA that merits re-training can automatically trigger training tasks for the affected personnel upon the CAPA's resolution. Choose a scalable solution that allows for an unlimited number of trainees, including contractors and suppliers if necessary.
2. Determine and map out training compliance requirements for individual employees.
GMP regulations, ISO standards, and similar requirements are key drivers for training. Some employees will need training on actual regulations depending on their roles. Identify the different roles for each employee and the different requirements for each role to map out their training requirements. This is an essential step before assigning trainees their learning tasks and distributing educational materials.
While this process requires an enormous amount of time and effort within a paper-based system, an EQMS can help simplify and accelerate each step of the process, including the assignment of training, provision of supporting documentation, notifications, follow-up activities, and escalation.
3. Include a variety of training formats, materials. and resources.
Make your training program compelling by combining online training, classroom training, and on-the-job training. If possible, use multimedia materials, such as pictures and videos, especially for complex topics that are best described visually.
In addition, take advantage of external training materials prepared by outside learning providers to complement those developed in-house. You will also want to ensure that you are applying a consistent level of rigor across the training program. Unfortunately, these steps may be challenging while using a paper-based or hybrid system. Alternatively, an EQMS can deliver course materials in any format and a variety of training activities to enhance curriculum quality.
4. Leverage automated exams to help demonstrate employee competency.
Go beyond "read and understand" training and implement testing to ensure employee competency. Testing should be detailed enough to make sure trainees understand the material. Focus on key elements of the subject matter and avoid trivia in your exams.
In regulated environments, in order for employees to be considered appropriately trained and compliant, they should be able to demonstrate knowledge and competence related to their job responsibilities. The best training curriculum in the world means nothing to regulators unless you can demonstrate that trainees retain and apply the knowledge. Testing results can help you do that.
5. Implement "just in time" training to increase knowledge retention.
Employees will not retain all their training, especially if they don't have the opportunity to apply the new knowledge. An EQMS can provide on-demand training, anytime and anywhere. It will provide a repository for training materials that can be accessed by users as needed.
Ideally, trainees should have the ability to learn at their own pace and schedule refresher courses on their own whenever possible. They should be able to take and re-take courses based on their skill level. Infrequent users should be able to refresh their skills on demand.
6. Leverage quality management training analytics to address training gaps.
One of the biggest benefits of an EQMS over a manual or hybrid system is analytics. Organizations that rely on spreadsheets and unconnected systems for training management will not be able to readily see the deficiencies of a program. Who needs to be trained on which courses? Who has completed the courses and who hasn't? Failure to track down the answers to these questions can lead to training gaps.
An EQMS can generate regular reports to help you identify problems (e.g., large number of employees with incomplete training). Analytics can help you determine which trainees need to be prohibited from performing certain tasks until they've been retrained. It can help you track and address training gaps and deficiencies. You'll be able to gain insights into trends and develop a plan in terms of who needs help with what. Your goal should be training the right people on the right content at the right time and frequency.
7. Keep quality management training up to date for increased audit preparedness.
Training records are among the first things auditors look at. Employees' individual training records should be complete and up to date. This can present a challenge to companies utilizing a paper-based system. Paper records can be easily misplaced, whereas an EQMS makes certain that all training files are kept in a single, centralized repository, ensuring easy document retrieval during an audit. In addition, an EQMS can ensure that users are automatically notified for any incomplete tasks or training activities, allowing you to remedy any issues prior to an audit.
Conclusion
Training is an integral part of quality management. Implementing an effective training management program should be a fundamental part of your compliance strategy, as it can help prevent or mitigate quality issues. If you're still using paper-based or home-grown processes, this is the best time to take advantage of the latest technology and switch to an EQMS.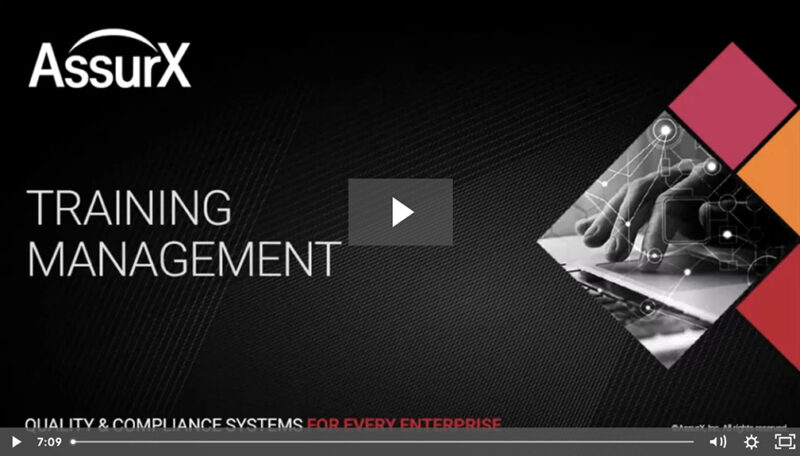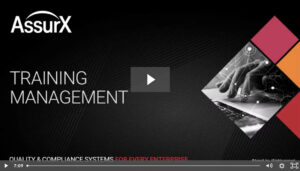 See the AssurX Training Management Solution in Action – Watch a 7-Minute Demo
About the Author
Stephanie Ojeda is Director of Product Management for the Life Sciences industry at AssurX. Stephanie brings more than 15 years of leading quality assurance functions in a variety of industries, including pharmaceutical, biotech, medical device, food & beverage, and manufacturing.
Related Reading:
Connecting Your Document Control System for Employee Training Management