Technology-averse energy & utilities companies are about to embrace the power of cloud computing technology, say many leading experts.
Cloud Computing Technology = Enhanced Performance
A new wave of cloud-based technology usage will drive higher performance in the utility industry.
It's no secret that entities are facing increased pressure in the energy and utilities industry. Operations are increasingly complex. Competition is strong. Finally, there's more enforcement, larger fines and a higher, constantly shifting bar for compliance.
Avoiding blackouts and ensuring the reliability of the power system is mission-critical for today's regulated electric, nuclear and other power entities. Mistakes can be expensive and damaging to a company's reputation – or worse. Today the compliance stakes are serious.
Failure to meet key federal (NERC/FERC) and regional regulations can mean significant financial and even criminal penalties. In some cases, fines can reach $1 million per day.  Companies must organize, track and coordinate a gauntlet of corporate and compliance challenges—from asset management to maintenance and ensuring cybersecurity system-wide.
Can cloud computing technology be an important part of the solution?
$1.3 Billion in 2016 to $6 Billion in 2025
Even if ultimate adoption is several years away, argues Stuart Brown, Managing Director of Technology – Utilities at Accenture, "The important thing is that they need to prepare for that now as they make decisions around what technology they elect to let into their environment."
There are some signs the transition is beginning to gain momentum: A new report from Navigant Research says the global smart grid as a service (SGaaS) market, focusing on data services, cloud-based software, and fully managed services, is expected to leap from $1.3 billion in 2016 to $6 billion in 2025.
The Navigant report acknowledges the current landscape, however. "Historically, utilities have preferred to acquire their own physical assets, store all related data in-house, and use their own staff to perform associated business processes."
Compliance Change in the Air?
Change may be on the horizon. According to the Navigant "utilities are increasingly turning to service-based delivery to help them take a more flexible approach to business processes, mitigating technology risks, and reducing costs while staying ahead of the competition."
Accenture's analyst echoes that sentiment. "In the new world as utilities move toward a more digital world and move toward a cloud world – even though that is maybe not a word that resonates today for utilities – it is going to resonate in the future," affirms Brown.
We invite you to explore our automated #NERC compliance management solution. Set up a personalized online demo! http://ow.ly/i7X330ax7g3

— AssurXEnergy (@AssurXEnergy) April 10, 2017
Market Conditions Could Be Catalyst For Adoption
Changing market conditions may be forcing the hand of utilities. "The monopoly business model allowed utilities to wait for technologies to mature before purchasing them, but with the increasing threat of competition, the potential profits from the Energy Cloud will not wait and first-mover advantage will soon be the order of the day," says Stuart Ravens, Navigant's principal research analyst.
Others are extolling the virtues of cloud computing technology in the utility industry. "Cloud computing is often far more secure than traditional computing because companies like Google and Amazon can attract and retain cybersecurity personnel of a higher quality than many governmental agencies," a former CIO of the U.S. Government told CIOReview.
There's no telling what the future holds. However, current trends suggest strongly that cloud computing solutions will become increasingly central to the compliance management plans of energy and utilities organizations.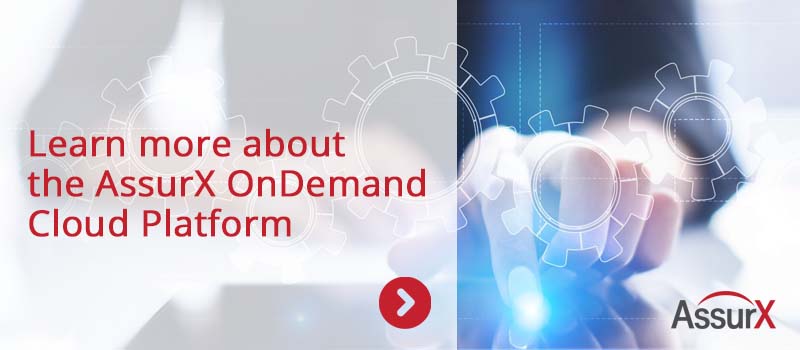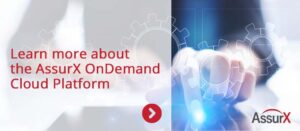 Conclusion
It's critical that the utilities carefully screen and assess potential tools, tactics, and vendor partners. Selecting an experienced vendor partner like AssurX that has extensive experience in the energy & utilities industry and a cloud-based solution that has proven to be secure is critical. Now more than ever, competition demands operating at the absolute pinnacle of performance.