Regulators and standards organizations are increasingly requiring manufacturers to incorporate a risk-based approach into their quality processes. For instance, ISO 9001, replaced preventive action with risk-based thinking requirements. In addition, the FDA is replacing 21 CFR Part 820 with ISO 13485 for medical devices, triggering new risk management requirements for companies marketing devices in the U.S. Furthermore, EU Medical Device Regulation (MDR) and In-Vitro Diagnostics Regulation (IVDR) require a product lifecycle approach to risk management. These regulations are adding new process requirements that enable manufacturers to leverage the benefits of quality risk management, from product development to post-market clinicals.
While risk-assessment standards are increasing, one common mistake organizations shouldn't make is treating quality risk management as an isolated process. Rather, risk management should be applied as an integrated element of quality processes.
This article reviews seven benefits of integrated risk management into your enterprise quality management system (EQMS) processes.
1. Simplified Compliance Through Quality Risk Management
One of the top ways integrating a risk-based approach into the QMS can help manufacturers is by simplifying compliance. A growing range of regulatory guidance and global management standards incorporate risk into their requirements, including:
Leveraging risk tools embedded within the EQMS streamlines compliance with these requirements. Beyond just checking the box, it helps meet the spirit of the requirements by incorporating risk into processes and daily quality activities.
2. Improved Operational Efficiency
Integrating quality risk management tools into the QMS improves efficiency in multiple ways. First, it reduces the time and costs associated with risk assessments. Second, it makes operations more efficient by helping target actions to issues with the biggest impact on the company. This improved efficiency means companies can find and fix problems faster, ensuring minimal impact on products and customers.
Finally, integrated risk management allows for better use of staff resources, capturing data and leveraging knowledge to help automate tasks like:
Launching risk assessments from events such as complaints and deviations
Searching historical records to identify similar events
Notifying responsible parties for management review
Calculating risk scores based on a risk matrix
Determining whether risk is acceptable or unacceptable
Failure mode and effects analysis (FMEA) review notifications
Corrective action task assignments and verification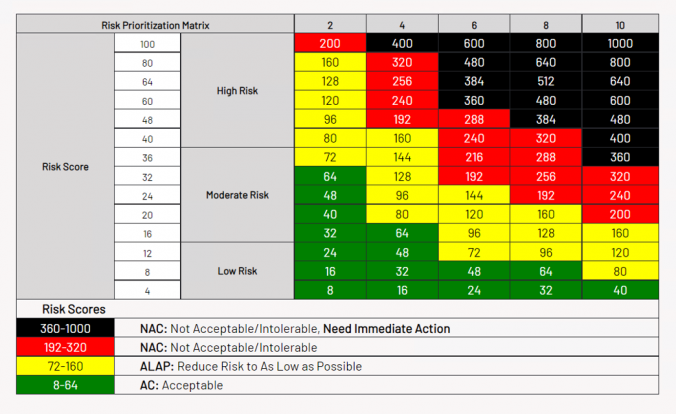 Sample Risk Matrix

 
3. Enhanced Visibility Into Quality Risk
Quality risk management enables greater visibility into risk using predictive metrics that indicate where problems are most likely to occur.
For example, consider a risk-based complaint management workflow in the QMS that looks something like the following:
Complaint received and logged in the complaint management system, triggering a risk assessment
The risk is scored on a risk matrix based on the probability and potential impact of the event, falling into the unacceptable range
Corrective action initiated to bring the risk score down into the acceptable range
Audit question added to verify the corrective action after completion
FMEA review launched to verify that the risk priority number (RPN) is reduced by the proposed corrective action(s)
Monitoring the complaint management system for similar events that recur
This monitoring process increases visibility, and repeat events indicate that corrective actions were not effective. As a result, recurring events should trigger another risk assessment, indicating need for further risk mitigation and RPN reduction.
4. Quality Risk Management Improves Decision-Making
There's a reason why ISO standards and global regulatory frameworks are making risk a centerpiece of requirements. That's because using risk as a universal metric makes decisions less subjective, and more focused on the potential harms to products, customers, and businesses.
Why is this so important?
In any business, decisions tend to be made by those with the loudest voice in the room. However, that doesn't mean these are the right decisions. Instead, it's often just the most opinionated and/or powerful people driving the conversation.
Using quality risk management tools as a guidepost takes the subjectivity out of competing business decisions. The results are tangible methods to determine better outcomes, identify and mitigate more risks in the product life cycle, and an overall smoother process that provides more robust decision-making.
5. Documentation of Risk Management Activities
Another compelling reason to incorporate risk into your EQMS is because it allows you to demonstrate and document risk-based decision-making. This is important both to regulators and international standards organizations, as well as company leadership.
Integrated risk tools allow you to document risk-based activities with:
Data analytics and reports
Audit-ready compliance records
Electronic signatures and audit trails that ensure data integrity
Documentation of verification activities such as audits and FMEA reviews
Records of risk assessments associated with change control activities
6. Incorporating Quality Risk Management Into the EQMS Processes
Manufacturers can look to incorporate risk into a variety of EQMS processes. Doing so makes them more effective, more efficient, and more likely to catch issues that could turn into major quality escapes.
Some key areas where you'll want to integrate risk assessment into quality processes include:
Audits: Assessing risk of failed audit questions and using audits to verify risk activities
Complaint handling and corrective action: Assessing risk of complaints, using risk scoring to prioritize action, and launching FMEA reviews to determine if risk was reduced
Deviations: Assessing risk of deviations and prioritizing actions
Change control: Minimizing risks associated with changes to processes, people, or equipment
Supplier quality management: Benchmarking suppliers by risk to determine actions such as customized inspection rules
7. Robust Reporting on Risk
Reporting on risk in the EQMS allows companies to better detect risks that could impact the organization. In addition, automation enables notifications and escalations to keep leadership informed of emerging risks.
With organization-wide access to risk reporting integrated with other analytics, manufacturers can better capitalize on opportunities without introducing unacceptable risk to operations. In other words, quality and compliance leaders can sleep better at night knowing that risks are under control.
Conclusion
Quality risk management has been a central focal point of global regulations and standards.  Furthermore, informed consumers are more aware of events in the market, and they demand improved quality and less risk. Ultimately, risk management needs to be more than just a standalone process to be effective. Instead, companies should look to integrate quality risk management into QMS process automation for the most proactive stance.
Related Reading: Quality Risk Management: A Proven 4-Step Process
About the Author
Sal Lucido is Co-Founder and Executive Vice President AssurX. Sal is an unequivocal product evangelist and an expert in the area of quality process automation. He holds a broad array of responsibilities, ranging from overseeing strategic plans and operational improvements to managing tactical alliances.