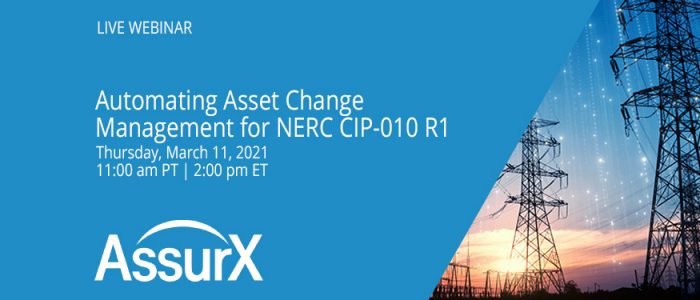 Automating Asset Change Management for NERC CIP-010 R1: Live Webinar

Join us for a one-hour webinar focused on the challenges of implementing a well-constructed NERC CIP-010 Asset Change Management system and how automation helps knock down hurdles and enables compliance.
Date: Thursday, March 11, 2021
Time: 11:00 am PT  | 2:00 pm ET​​
NERC CIP Standards have become increasingly challenging to comply with as the regulations and technology evolve. CIP-010 R1 requires a well-defined Asset Change Management process with precise criteria to support a robust compliance program.
Join us for a one-hour webinar, Automating Asset Change Management for NERC CIP-010 R1, that will explore the functionality required for an effective solution that enables compliance with CIP-010 today and in the future.
Key focus areas include:
Issues and challenges with NERC CIP-010 R1

Adaptable template-based change management workflows

CIP-010 R1 as part of a much larger ecosystem

Leveraging automation & integration capabilities

How a configurable platform assures future compliance requirements
The webinar will include a brief demonstration of how the AssurX Compliance Management System™ can meet the needs of NERC CIP-010 R1.

 Missed the webinar?  Watch it On-Demand here.

AssurX provides an end-to-end, automated NERC compliance software solution that expands seamlessly to address all Energy & Utilities industry regulations.  One enterprise-wide, flexible system consistently manages operations, identifies risks, and demonstrates compliance across all critical operations. Learn more about AssurX ECOS here.