An efficiently designed change management system clearly defines how strategies, procedures, and technologies will be applied to address changes in the business environment.
Implementing a change management process for quality and compliance requires planning and preparation. Starting with a solid strategy at the outset can create a change management system that is adaptable, builds in risk-based thinking and improves the ability to anticipate and plan for change rather than react to it.
Encourage Collaboration as a Change Management Best Practice
A well-designed change management process (1) encourages collaboration in the preparation stage, and (2) streamlines the execution process at the same time. When staff understand and contribute to change, then you are actively engaging a strong knowledge base and a team of ombudsmen. In addition, odds increase substantially for adoption and support of the change.
Encouraging collaboration helps drive acceptance. This is one clear advantage of using a quality management software system that can be accessed via browser from any device, at any time and from any location.
Automate the Change Management System
An effective change management software system manages requests, evaluation, planning, approval, implementation, and documentation of changes with a closed-loop workflow. One of the greatest advantages of automating change management within quality management systems is being able to predictably guide workflow and routing.
Tasks and due date reminders throughout long change processes enable projects to progress without roadblocks. See the sample automation checklist for any type of change required in the quality ecosystem such as raw materials, supply chain, SOPs, equipment, formulation, design, specifications, policies, documentation, and methods.
Automation Checklist for Change

Does the system select team members base on the task type and scope?
Does the system prompt the user to consider situation-appropriate questions?
Does the system automatically assign tasks based on the plan?
Does the system automate notification and approval routing based on the change type?
Does the system automatically notify users of tasks that are about to become due?
Does the system notify users of late tasks and automatically escalate as needed?
Employ a Risk-Based Approach to Change Management
A risk-based approach to the change control process prompts users to consider situation-appropriate questions to identify the purpose of change and associated risks.
Using a progressive list, the change impact, and therefore the risk is greater as the questions progress. For instance, a change to a product not yet in the field presents less risk than a product already in use by customers. As seen below, using change management software with integrated risk management, the user can be prompted to answer  risk scoring questions that can be assigned a risk impact rank or score:

Integrate Change Management into the Quality Ecosystem
Change management touches every quality management process in the organization. Many times, the need for change is driven by troubleshooting product or process issues or as a result of audit findings.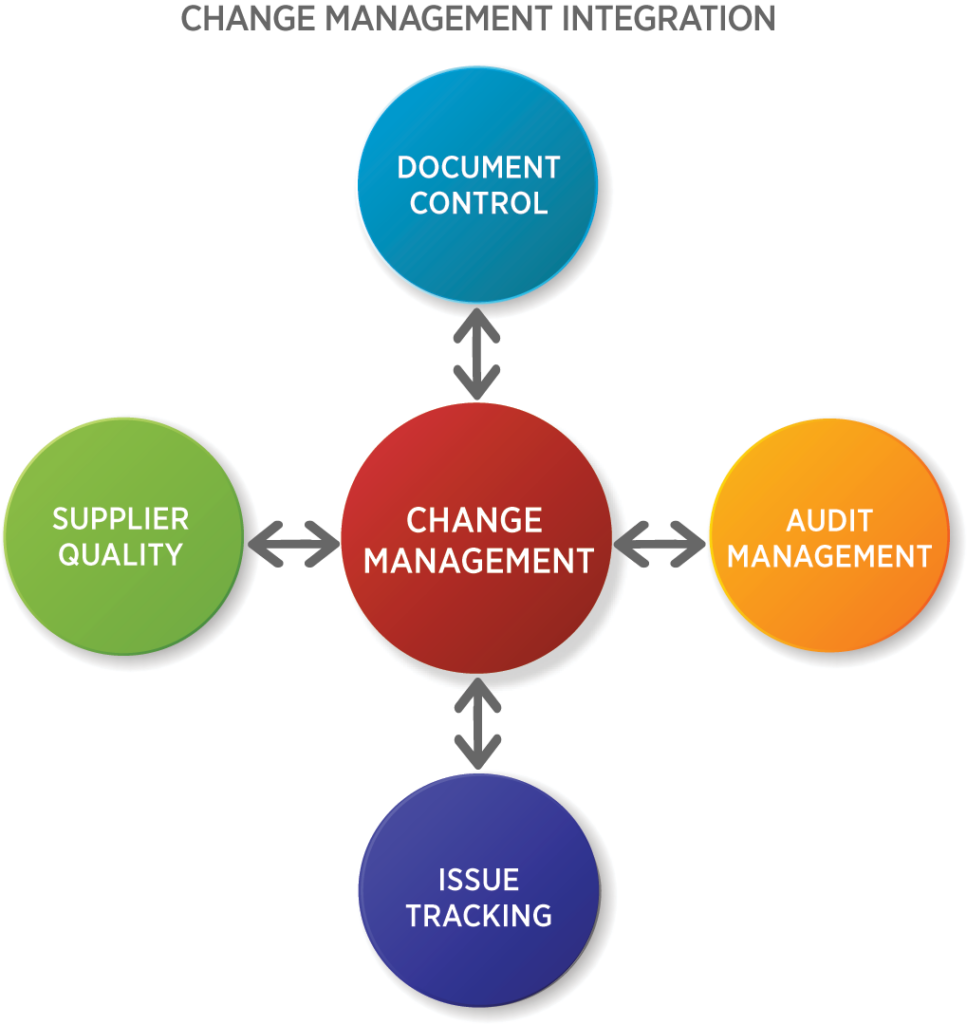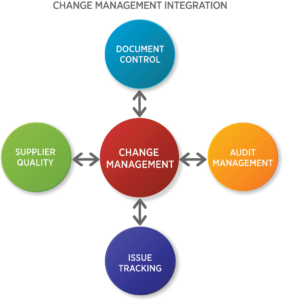 With most changes, there is an impact on work instructions, procedures and sometimes policies. Therefore, change management systems should be integrated with other quality management processes. Visibility is increased and a single unified platform improves efficiency.
For example, the document management process should be linked to the change management process, and change should be visible to respective employees, suppliers, inspectors, and auditors. This allows the user to link to related documents when planning and implementing a change.
Select Flexible and Configurable Change Management Software
Since the regulatory environment and market landscape are always subject to change, it is important that the change management software can itself be changed. Unfortunately, many of the quality management systems in use today are very inflexible and are therefore unable to rapidly accommodate changing regulatory and market environments.
A configurable change management system doesn't require the time and expense of custom development. This results in a reduction in IT expenditure and faster response time to implement changes that decrease costs and increase efficiency.  In addition, a flexible system encourages employees to suggest and implement improvements faster as they feel they have a stake in the success of the system.
Furthermore, a configurable change management system allows change control levels to be dynamic and automated and enables different methodologies to be applied to different changes (e.g., design changes, process changes).
Look for Built-in Compliance with Regulatory Standards
A best-practice change management system must be compliant. For example, ISO 9001:2015 and ISO 13485 standards state that any changes affecting the quality management system, including product requirements, design and development changes, should be controlled.
Additionally, if an industry has regulatory requirements for how electronic signatures are handled or how security is controlled, the quality management system should provide built-in compliance to these standards as well. Use the checklist below when implementing a change control system (or any quality management system):
Regulatory Compliance Checklist

Does the system provide role-based control of access and functionality?
Does the system maintain a protected audit trail?
Does the system incorporate a secure e-signature functionality?
Does the system ensure the appropriate personnel is incorporated into the review and approval processes?
Are past due and high priority tasks escalated to the appropriate personnel?
Conclusion
Complicated, rigid or isolated change management systems tend to have low adoption rates. Integrated, flexible systems that follow a straightforward best-practice process have higher adoption rates.  A modern, configurable change management system helps manages risk, adapts to change and improves process efficiency.