ABOUT THIS WEBCAST
The modern enterprise quality management system (eQMS) has evolved to streamline the movement of quality processes and act as a single point of truth for compliance. It integrates activities and information seamlessly to manage, track and report, ensure product quality and facilitate all compliance with GxPs, FDA, HACCP, ISO standards and more.
Today's leading companies have embraced technology and turned quality management into a culture that makes safer products and drives business change and growth.
Learn about 5 essential pillars that form the foundation of a modern quality management system:
Integrated Processes
System Flexibility
Monitoring and Management
Compliance Enablement
Culture of Quality and Compliance
Plus: Real-world examples of modern quality management practices, and why getting there doesn't have to be a daunting proposition.
AGENDA
Discussion of five elements that are common to all industry-leading quality management systems. Includes examples of an integrated QMS as well as use case examples.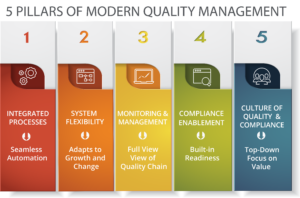 EXPLORE MORE RESOURCES:
White Papers & Special Topics
Examine other technical and industry topics.
Videos
Learn all about AssurX and our products and hear directly from your peers.
Case Studies & Success Stories
Read detailed accounts of how customers in a variety of industries are using AssurX software.
Webcasts & Webinars
Access video replays of our most popular webcasts and webinars on a variety of industry-specific topics.
Brochures & Datasheets
Read about the AssurX platform as well as industry and software solutions.
Blog
Get the latest news and insights from AssurX and other industry leaders.
ABOUT ASSURX
With decades of expertise built into our quality management and regulatory compliance software platform, AssurX helps companies maintain quality and compliance, streamline workflow, control risks and better manage your enterprise. Our configurable software and deep understanding of users' needs produce a unique system that easily adapts as your business evolves.
AssurX is an ideal partner for regulated companies looking for better operational control and efficiency while meeting and exceeding compliance standards.